Relay For Life Takes on Covid-19
Kelly Zarate, The Scroll, Co-Editor in Chief
October 16, 2020
"Think Pink" is a phrase commonly used during the month of October as a constant reminder to bring awareness to breast cancer.  Every year the American Cancer Society (ACS) and Relay For Life do what they can to raise money, not only for breast cancer but also for all types of cancer.  In May, there is a Relay for Life event in Central Park to celebrate those who have fought or are fighting against cancer and honor those lost to the disease. "Back in March, we made the difficult, yet responsible decision to postpone our event to the fall out of an abundance of caution for our volunteers, staff, and especially the many cancer survivors and patients we serve," said Relay For Life Community Development Manager, Abby Smith. 
As if the year hasn't been devastating enough, according to www.cancer.gov, so far in 2020, a total of 1.8 million families in the United States would have been affected by the deadly disease. Their signature fundraiser, usually every May,  involves over 5,200 communities throughout the country to help raise awareness and funds for research for all types of cancer. Survivors, caretakers, and supporters gather annually for the 24-hour event that raises money for the ACS.  On their website, ACS states, "Each team is asked to have a member on the track at all times to signify that cancer never sleeps. Cancer patients don't stop because they're tired, and for one night, neither do we."
Due to the recent covid-19 pandemic, cancer patients are struggling. Relay For Life has made it their mission during these difficult times to protect them: "People who have been diagnosed with cancer are more vulnerable than ever right now. They need support, people to talk with, resources to turn to, and reassurance that someone is looking out for them" as stated on their website.
Smith said in an interview with The Scroll, "With no end in sight to the pandemic, our volunteers worked diligently to come up with a way to celebrate this year, honor those in our community who have been diagnosed with cancer, and continues the critical mission of The American Cancer Society." Though their original plans may not have happened, this does not stop their fight against this deadly disease.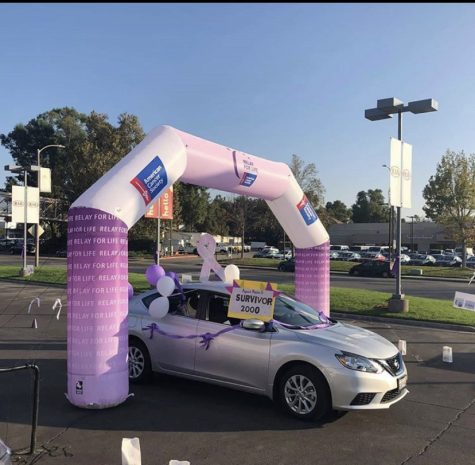 Recently, on October 11, Relay for Life held a Drive-Through Luminaria Ceremony at the Hello Auto Group Dealerships in Valencia. Residents in the Santa Clarita Valley gathered to honor those who are or have fought with cancer through 700+ luminaria bags.
Every year at the main Relay For Life event, there are booths managed by volunteers with their own activities that help raise money for cancer, and some of these booths include Saugus' very own ASB and swim team. Though the usual event was unable to occur, this leaves community members wondering how they can get involved with the fight.
Besides their annual event, Relay for Life helps raise money 365 days a year. From October 29-31, there will be two car washes at the Valencia and Canyon Country car wash. Described as a spooky Halloween fundraiser, anyone can get their car washed while helping raise cancer.
With such uncertain times today, it is important to remind cancer patients that they are not alone. From fundraising to attending events, anything helps. Saugus students can get involved with the fight against cancer by fundraising with www.SCVRelay.org.