The Dramatic Effects of the Huntington Beach Oil Spill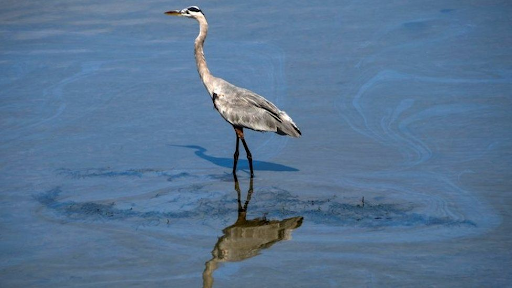 On October 2, 2021, an underwater pipeline leak spilled an estimated 30,000 gallons of crude oil on the coast of Huntington Beach as of October 11th. However, professionals are still not sure if that's all there is, because the spill has spread as far as Newport Beach.
The devastating oil spill has damaged the very fragile wetlands that are home to many endangered species. Scientists worry the repercussions of this oil spill will be observed for many years to come, as the oil will most likely remain present even after clean up crews aid. In addition, the oil spill had caused several beaches to be closed to the public. These beaches being Newport beach, the harbor, Laguna City beaches, and Crystal Cove according to the L. A. times both city and state beaches have been reopened as of October 11th.
Volunteers trained in cleanup have been sent to start trying to remove the oil. In total, about 1800 professionals have been sent to clean up. The groups have been frantically searching for animals in need of help, as well as skimming to remove the oil. Of the 24 birds recovered, 19 have been found alive. The Oiled Wildlife Care Network stated that 5 of the birds recovered are Snowy Clovers, an endangered species. They are all expected to survive. As for the oil itself, about 5,544 gallons have been recovered. 
As for civilians, the director of Orange County Coastkeepers told the Los Angeles Times ,"Steer clear of the beaches and oceans for now and let the professionals begin their work". However, the public can send donations to California Coastkeeper Alliance, Pacific Marine Mammal Center, and other local organizations. If affected wildlife is found, experts at the UC Davis Veterinary Medicine ask that you call 1-877-8823-6926, and do not touch the affected animal.
Although the cause of the leak is still being investigated, it is believed that a ship's anchor hitting the pipe is the reason for the spill. The pipeline is 16 inches thick and covered in concrete, so it had to take a large amount of force to open it. The pipeline, owned by Amplify Energy,  runs 18 miles and is about 100 miles below the surface.  
Despite the effect this oil spill has had on the community, Huntington has come together to help the wildlife as much as they can.