Gunpowder Sniffing Dogs Are Coming to Our District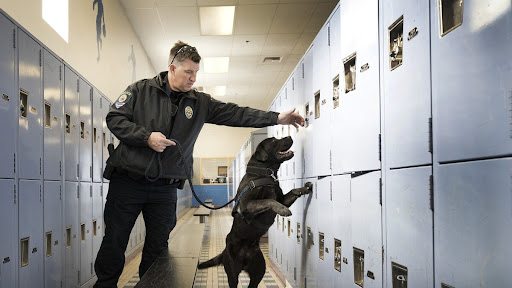 To best promote safety and security on campus, canine detection units and other safeguards are being put in place all around Hart District. Many of these precautions were discussed at a Hart District Safe School Discussion on August 31, 2022. This is intended to officially announce new focal points of the districts, as well as invite feedback from community members and parents.
Saugus Principal, Peterson-Henry, expressed gratitude for our district working to ensure student safety through the Hart District Safe School Discussion on August 31, stating, "And to see all the principals out here. And the community members, board members, district administrators, all coming together with our SROs to make sure schools are doing what we need to do to be safe."
Our district Superintendent, Mike Kuhlman, has dedicated himself to leading, as well as planning, organizing, operating, supervising, and evaluating all areas of our district. "Tonight we talked about how the safety plans we have are based on a report written after the Saugus tragedy. In summary, there are layers of protections that we have, it's not just one thing. And so, we are always looking to see if we have enough layers in place to keep things safe," elaborated Kuhlman in an interview at the Hart District Safe School Discussion. Now, these protocols are being established.
One major safety precaution discussed at the Hart District Safe School Discussion held last month was the firearm detection units. These will consist of one dog trained to detect firearms and gunpowder accompanied by one uniformed handler. Having started August 22nd, this dog and handler pair is visiting each campus 10-11 times a year on a random basis. They will monitor and search student entry, student parking lots, and lockers. To make this happen, Hart District is partnering with 3KD9 Detection, a public company determined to aid and educate the public about gun safety, and drugs, and spreading the slogan that nobody should live in fear, with the help of dogs.
At the District Safe School Discussion on August 31, Captain Justin Diez of the Santa Clarita Valley Sheriff's Station highlighted more procedures to enhance our safety on campus. A focal point of Diez's speech was School Resource Officers or SROs. "SROs are role models… they provide constant daily protection and visible security," says Captain Diez, "…uniforms and police cars are big deterrents." The more security seen on and around school grounds tends to ward off trouble, Diez added. He also assured the audience that "School Resource Officers are experts in juvenile law." 
A more in-depth visitor management system is also being implemented. Campus visitors will now have to sign in, provide identification, receive a temporary ID, and other escort protocols that were not discussed in detail. New camera systems will be obtained and integrated into schools around the district. This includes the ability to watch live feeds, assess the amount of camera coverage for maximum effectiveness, and gain the ability to record and store past feeds. 
Bulletproof glass and windows were another security measure introduced at the Safe School Discussion. The primary focus will be switching out windows or adding glass covering on windows facing the street or other public sightlines into the school. Succeeding the accomplishment of this goal, this process will continue onto internal windows facing the campus. 
The recent shooting at Robb Elementary School in Texas and Saugus' own has pushed the Hart District Council to constantly ponder more ways to enhance our school's safety measures. They are also prioritizing mental health to allow our community to continue the healing process, as Superintendent Mike Kuhlman described in the previously mentioned newsletter to our community. Any students that have been triggered by these added measures are always welcome in Saugus' wellness, the Serenity Space in the MPR, to the right of the stage.
The new safety movements have been guided by an essay written for our district by professionals, titled: "Enhancing Plans and Procedures to Prevent Targeted Violence.pdf".