Reopening of Theme Parks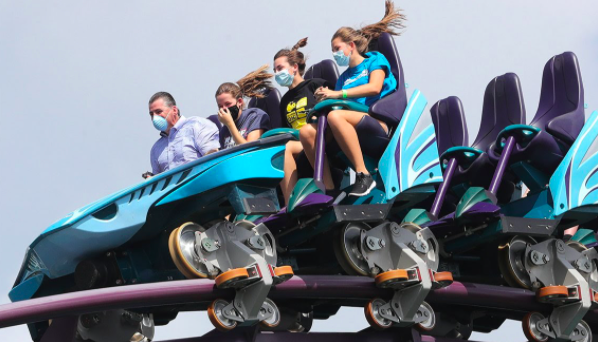 After a year of being closed due to the coronavirus pandemic, amusement parks like Disneyland, Universal Studios, Six Flags, and many others are finally being reopened. These theme parks and their visitors must follow many state guidelines during their reopening. When visiting an amusement park in California, what are the new rules?
Amusement parks in California which have reached the red tier in the county they are located in are being reopened with covid restrictions. They can first operate at 15% capacity, then 25% in orange tier, then 35% in yellow tier. However they must operate following many Covid guidelines. 
Many employees have to face many rules and restrictions as a result of theme parks opening. All employees must wear masks and have weekly covid testing. Tested employees do not count for the park's capacity count. They will be trained to do frequent handwashing, and regular cleaning and disinfection around the park. They have to ensure that visitors will follow Covid protocols as well, and ensure adequate ventilation in all spaces. Employees will also have to be trained in other elements of the COVID-19 Disinfection Program. Performers that are unable to work with face masks must stay six feet apart from any other person, and if they come in contact with others then they must be tested twice a week. 
The ride loading process has to be adjusted so that they can support physical distancing between riders. All rides, shows, and performances that are indoors will be closed.  If riders keep losing their masks on a ride at a high rate, that ride must be discontinued. The rides also can not be over 15 minutes long, and queuing must be outdoors and physically distanced. 
The indoor shops will be limited to the capacity of 15% when in the red tier, increasing to 25% when in the orange tier. 50% capacity is allowed in the yellow tier. The red tier permits indoor dining, then it opens to 25% capacity in the orange and yellow tier. Unfortunately eating and drinking is prohibited in attractions, including theaters. Outdoor seating must be provided by quick service restaurants under state guidelines. Parks are also not allowed to have trash cans that people have to touch. Payment of items must be contactless if possible.
The parks and employees must follow the COVID protocols in order to operate during this pandemic. While they must follow rules and regulations, so do the visitors!
Visitors have to follow the basic CDC guidelines. So they must wear a mask or face covering, social distance whenever is possible, and be mindful of the new COVID restrictions. Visitors should acknowledge the rules and follow them, because those who do not comply with the requirements of wearing a mask will be removed from the theme park. 
They must give their names, numbers, and addresses when being a visitor just in case a coronavirus outbreak occurs in the park. They also need to get a temperature check when they come. There will be hand washing stations which will be accessible to everyone. 
Tickets will be purchased online to avoid physical contact. It is advisable for people to bring their own wheelchairs or strollers, because they will not be available for rent. People should be mindful of signs indicating direction, because one way traffic helps social distancing. Only in-state visitors are allowed to visit the amusement parks. 
Theme parks in California have already opened. Six Flags Magic Mountain and Discovery Kingdom opened on April 1, 2021. Legoland  on April 15, and Universal Studios on the 16th of April. Disneyland and Disney California Adventure reopened on April 30. 
As restrictive as these covid guidelines sound, they help ensure the safety of employees and visitors, while finally reopening the theme parks that many have missed. 
https://www.themeparkinsider.com/flume/202103/8097/
https://files.covid19.ca.gov/pdf/guidance-amusement-theme-parks–en.pdf
https://www.visitcalifornia.com/experience/what-you-need-know-about-california-theme-parks/