Pink Out Game!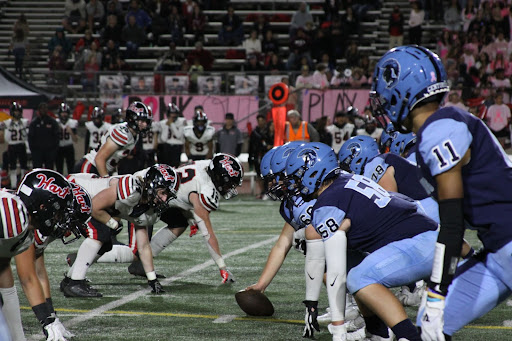 Saugus Centurions gained yet another win at their Pink Out themed home game.
In support of Breast Cancer Awareness Month, Saugus High School students supported their Varsity team in everything PINK on October 8th, 2021! 
Students of Saugus' associated student body (ASB), helped make sure their student section was in the spirit of pink, by providing pink colored shirts covered in the words, "intercept a cure" -for just ten dollars- these proceeds were even given to the American Breast Cancer Association.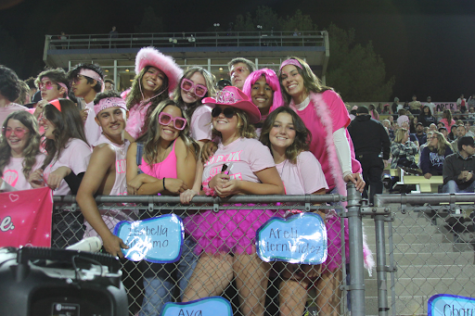 Photo taken by Melody Toney
Executive Ambassador of the student body, Makenna Ivey, shares what the environment was like for students of ASB leading up to this game: "We decided to collaborate with Hart ASB for the T-shirts…which made both student sections look 
uniform." Ivey adds, "Pink-out is a well loved theme amongst the ASB class, so every year we are all extra pumped for the game."
Varsity quarterback, number 3, Brady Welch also mentions that "the student section gets bigger every home game and continues to show up with the energy to help support."
Saugus ASB did a great deal of work to make this night one to remember for the students of Saugus.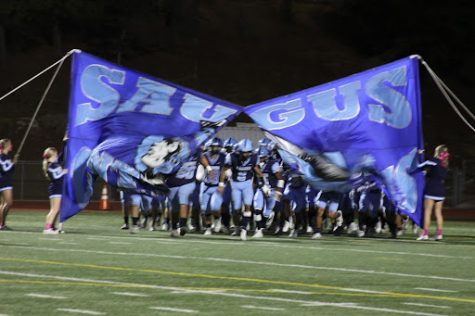 Photo taken by Melody Toney
By a count of 28-6 Saugus varsity players proudly came home with a win that night. Specifically, Welch threw four touchdowns and shared that "…during the game everyone stayed positive even though [they] made mistakes and the game was close for a little bit." Number 3 adds, "I am proud that I kept pushing through adversity throughout the night and that creates success on the field." 
The team's perseverance is further emphasized by words from the team's defensive lineman coach, Santana Garcia: "I was very proud of the resilience and determined mindsets of the boys during this game. The team has kept up this energy so far and one can only hope this is maintained for the rest of the season."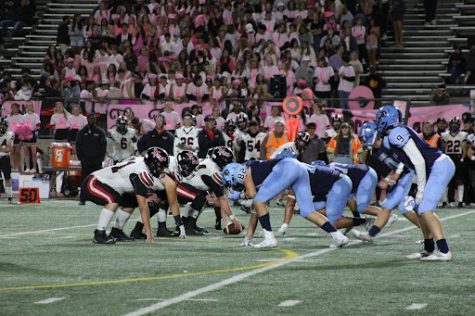 Photo taken by Melody Toney 
Varsity's star wide receiver, Sebastian Dallaire, contributed to the Centurion's win greatly. Statistics from Max Preps reveal Dallaire's contribution with a total of 8 receptions, one hundred and forty receiving yards, and 2 touchdowns scored! 
Even junior offensive and defensive player Austin Treahy had a couple of great plays, with an interception and reception on offense. He shares that he and his teammates were "very happy about this win."
Saugus Varsity Football currently holds a six week winning streak and an overall winning percentage of ninety percent. On October 29th, these Centurions took home a defending league title and students of Saugus High are excited to continue supporting these boys in blue during playoffs.
         Congratulations and best of luck Saugus Centurions!