Saugus Girls Volleyball 2022 Season Update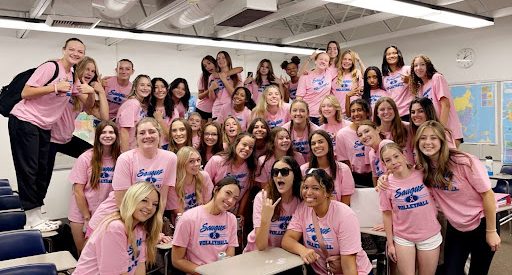 Girls volleyball is in season and Saugus' varsity team has come out of the gate on a close-to-perfect winning streak of 21-2. Our JV team is going into this season with a   leading league score. Frosh has a 6-2 winning record, not including pre-season games.
Varsity girl's volleyball is on fire this season. They are on their way to breaking school records with their incredible winning streak. This team sits comfortably in the number one spot in Division 4 rankings. Only having lost 2 games, these girls are persevering through this season and having fun while doing it. Coach Zachary Ambrose has put his all into coaching these girls for this season, and his work is paying off. 
Starting Setter and Senior, Milani Lee, described her feelings about this season and their goals, "I'm really excited for this season but mostly for playoffs and hopefully state. It makes me sad that this season is coming to an end, as it's my last one."
Starting Outside Hitter and Sophomore, Morgan Guardado, shared why she thinks her team is doing the way they are, "I think my team just connects easily, it's easy for us to win. We have such a great connection on and off the court, we are always there for each other no matter what." 
This Varsity team is aiming for 30 wins this season and to win the CIF championships. A big contribution to their streak is keeping the energy high on and off the court, says Lee. 
This season has been groundbreaking and historic for Saugus Girls Volleyball. There are many seniors on the team who are playing for their last time. So, their incredible streak and fun times are making this season all the more memorable. Especially for the Freshman and Jv teams who look up to them.
Saugus JV consists of 8 sophomores and 4 freshmen, and 1 junior. They are always looking for ways to better themselves as a team and the program. They help pave the way for the freshmen team and look forward to being on varsity. However, these girls are more than just scoreboards. How are they as a team and how do they feel about this season? 
Sophomore and JV team captain, Leah Taylor, disclosed in an interview, "I'm feeling pretty good [about this season]. I'm excited…because I already see improvement in our team from the beginning to now." Being one of the JV team's Outside Hitters and Middle Blockers, Taylor keeps her energy up on the court and ensures a good game. 
JV Team Captain and Rightside (Opposite) Hitter, Kylie Stangl, stated why she thinks the team is doing the way they are, "I think that when we put our minds to it, we get the job done! Win or lose, I feel a large connection with everyone on the team." Excited for the rest of the league season, and dreading the end of it, Stangl's biggest hope is for her team to grow as much as they can throughout this season and beyond. 
Despite having a limited amount of playing experience, Saugus' freshman girl's volleyball team has found its way around the program and won 6 out of their 8 games played so far, only being beaten in a close match against Valencia and Hart.
Opposite hitter and one of two Freshman Team Captains, Addison Roberts, expressed her reasoning for her team's performance, "I think that our communication is getting better and we all support each other in our decisions." She also revealed her feelings about the season, "I am excited to build more and more friendships on the team but also work together and succeed together."
Libero Leanna Pimentel addresses her captains and the team's vibe, "when we get stressed out it affects us on the court. But at times we connect really well and our captains especially help us calm down and remind us that we can win." Leanna talked about how excited she is to play and loves playing home games because being home boosts her confidence. 
Our Freshman team has a lot to learn, but as the future of Saugus Girls Volleyball, they try their best to learn and grow as a team, says Roberts. 
Saugus Girls Volleyball is winning records and bonding while they do it. With four games left in the season, they are trying hard to achieve their goals and make each other proud.