Football season Overview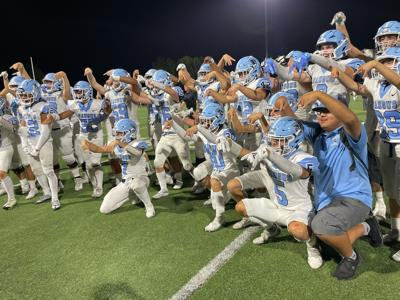 As football season comes to an end, we have had many great games and plays that have made this season so much better. The regular season came with a ton of excitement, wins, close games and has made every Friday feel like we were in a movie. 
The first game they played was against the Rio Mesa High School Spartans, In Oxnard California. This was a close game but Jacob Viger kicked the winning field goal, AJ Goodman tied the game 14-14 after he ran the ball back after kickoff. This was the first game that made us excited about what is next to come.
The next game was our homecoming game against the Moorpark High School Musketeers at College of the Canyons. AJ Goodman set the score 20-0 when he had a touchdown for Saugus. Quarterback TJ Cataldi threw the ball to Dario Sandavol from 6 yards in the end of the third, Jacob Viger 5 yards out midway in the first quarter and Khai Ky-Yeith from 36 yards in the end of the fourth. Paige Mcgee our kicker, scored many times also. 
The third game we played was against the Camarillo High School Scorpions with a close loss of 34-30. We were down at halftime until TJ Cataldi ran down for a touchdown, TJ Cataldi had two passing touchdown passes, one to Treahy and the other to Viger. At the end of the fourth quarter Camarillo made a touchdown leaving the game 34-30 Camarillo. 
Our last out of league game was against the Simi Valley Pioneers At Canyon High School the score being 16-14. This was a well hyped up game because last year was a close loss to them. Khai Ky-Yeith had our first touchdown, a 40 yard pass. Gage Shecklow caught an interception against Simi, giving the ball to us. AJ Goodman got the second touchdown a whole  34 yards. Jacob Viger hit the winning field goal leaving Saugus with an exciting win. 
Our first league game was against the Valencia High School Vikings, At Valencia High School, 28-21 Saugus. This was an extremely hyped up game since Valencia forfeited the game last year and ended up winning Playoffs last year. AJ Goodman had the first touchdown and ran a whole 138 yards throughout the game. TJ Cataldi then hit Jacob Viger for a 17 yard strike, Austin Treahy caught the Vikings ball with a huge interception. Goodman then scored a touchdown 15 yards out, Goodman then got a 75 yard TD reception. Jadon Lemmons made his second interception, leaving Saugus with the win.
Our second league game was against the West Ranch High School Wildcats, At College of the Canyons with a loss of 43-6. TJ Cataldi had his first and only touchdown after passing it to AJ Goodman which was 90 yards, Cataldi tossed it roughly 50 yards and Goodman ran the rest. After losing to the team Saugus prepared for the next league game.
Our third league game was against Hart High School, At College of the Canyons 14-6 win. Saugus scored two touchdowns in the second quarter, Vinny Gallagher scored the first touchdown and AJ Goodman scored the second. In this game it is mentioned that many people had injuries and Jacob Viger was out and still recovering. 
Our fourth League game was against the Castaic High School Coyotes, At College of the Canyons 33-14 Saugus. This was Casatics first year in the Foothill league. Saugus was up 27-0 at the half and 33-0 at the third. Jacob Viger was back in which made the game more exciting.
Our fifth league game was against the Canyon High School Cowboys, At Canyon High School, 45-7 Saugus. This was an extreme win over Canyon, after having many touchdowns and field goals, our defense was extremely good against Canyon making sure that they only got one touchdown.
Our last game was against the Golden Valley High School Grizzlies, At Canyon High School 31-13 Saugus. Some of the plays they made was Dario Sandavol he ran 38 yards for 2 touchdowns, TJ Cataldi threw to AJ Goodman for a 12 yard Touchdown Reception, Paige Mcgee made a 28 yard field goal. Our last game was a win which was a good way to end the regular season.
The Regular season was good and exciting. Here are some opinions on it, Jacob Viger a senior at Saugus High School said, "It was overall a good season, I believe there was a lot we could have done differently to have put ourselves in a better position to win more games and go further in playoffs. Another interview we got was from Khai Ky-Yeith, a senior at Saugus High School, "It was a good final season with my teammates. Obviously it didn't go to plan with all the injuries on our team and the playoff game but overall as a team we had fun. It sucks we weren't able to reach the goals we set but most things don't go according to plan. Those who had to step up for injured players worked really hard to replace them. Overall I'm going to miss the guys.