Saugus High School's 2023-2024 Homecoming football game began at Canyon High School with much excitement, as it was the very first game of the season, against Rio Mesa High School. The players were filled with adrenaline and ready to play. Students gathered in the student section to cheer on their team, and to watch the outcome of the game ending with Rio Mesa High School 48, Saugus High School 6.  
Walking into the stadium, food trucks filled the entryway of the school with a variety of different food and drinks. Students were on edge with anticipation, creating an exhilarating environment for the game. Players were filled with a variety of emotions going into the game, not knowing what exactly to expect. Junior number 22, Jonathon Sabatucci, explained that,"The energy at the start of the game was the highlight of the night. Before the game, the stands were packed with spectators including family, friends, and students."Senior cheerleader, Gabrielle Salazar, stated, "I was honestly shocked about how many people came to the game. Since it was a Thursday night game, I thought not a lot of people would come but it was really full!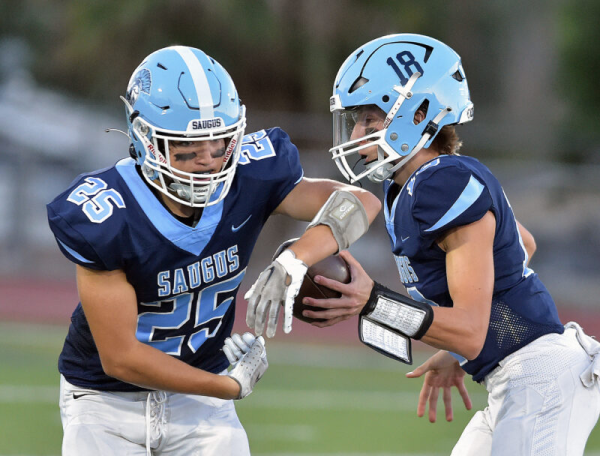 They were energetic, loud, and had a lot of energy." Some students at Saugus believed that there were minimal expectations for the student section to be full, although this was not the case. 
The outcome of the game was not what everyone was expecting, but throughout the game there were many highlights from the night.  Player, Christian Riccardi, claims the highlights of the game were when, " Dre made the play and stripped the ball out, when Shane blocked their kick, and when we would force turnovers." Considering a lot of pressure was put on them, as it was the Homecoming game and opening game of the season, they were still happy with how hard they played.  Riccardi explained, "We were all overwhelmed and needed to be more aggressive and do our job. We needed to catch the ball and work our way across the field." Also, throughout the game there was a massive amount of injuries from both high schools but mainly Saugus. Eva Piantanida, a Junior on varsity basketball explained, "all the injuries were very  disappointing and could possibly lead to an unfortunate season."  
There were a large amount of penalties during the game. Both teams combined received 21 penalties. Saugus High School scored a total of 6 points throughout the game, but for the first game of the season the energy was amazing and the players are hoping to win the next game. The final score of the game was Rio Mesa 48, Saugus 6. The players took the game as a learning experience, and Saugus High School is preparing for the fierce season ahead.