Saugus Dance Team Wins Regional Grand Champions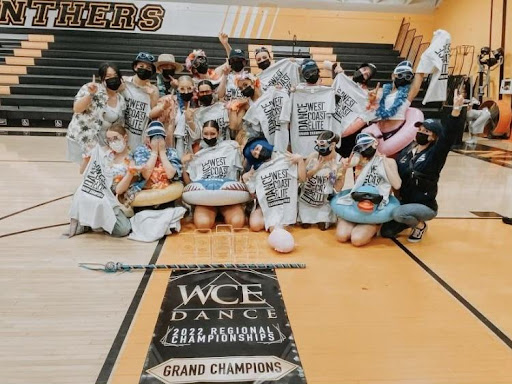 On January 29th, The Saugus High School Dance Team won their first Regional Grand Champs title in six years! The dancers have overcome the obstacles that Covid-19 has thrown their way and have worked tirelessly together to reach this goal. Dancers have expressed that the team this year has been closer than ever before, and are confident that they will succeed in accomplishing more than ever.
Though this important competition seemed nerve wracking, the team remained positive and enthusiastic. "Going into our first competition," expressed junior Caitlyn Dewaele, "I was feeling so excited to compete with my team with a sense of normalcy again."
Coach Tayler elaborated that, "It has been two years since I have gotten to see the girls dance inside on a court. To have the competition also be the weekend they finally earned Regional Grand Champion was just the cherry on top of an already exciting weekend."
After Covid-19 hindered the team from showing off their long hours of hard work, they took this competition as an opportunity to finally have fun competing together. The honorable title the team earned was simply the icing on the cake, as Coach Taylor described. 
Along with the Regional Grand Champion title, individual dancers also won impressive honors. Clara Crider, Caitlyn Dewaele, and Annie Reichman won "Dancer of the Year" due to their talented solos. 
"I felt amazing about my solo," Dewaele conveyed, "because I got the opportunity to share my art individually with others. My solo consists of deep emotion that relates to trials in my own life. I was beyond grateful to receive dancer of the year." 
Though the team has been incredibly successful already, they still have many goals as their season continues. "We are now in the middle of our season, with three regionals and nationals still left in our schedule." Coach Taylor informed. "As a team, they are working towards the goal of bringing home another 'Regional Grand Champions', with the end goal to bring home a 'National Title' for any of the four full-team pieces." 
She added hopefully that, "It is always a goal to earn the title of "National Grand Champions", at Nationals. This is a goal that Saugus Dance over the years has been working towards. It would be a huge win for not only this year's team, but for all of Saugus High School Dance Teams in the past."
While the titles are highly craved by the dance team, they agree that simply enjoying the season and improving as dancers are also important objectives. "My ultimate goal this season is to never lose the fun and love from dance." Dewaele emphasized. 
"My biggest piece of advice to my dancers is to never hold back while dancing." Coach Taylor impresses on her dancers as she always desires that they give their best effort. "You won't accomplish large goals with hesitation – you accomplish them by going full out and giving it everything you have! Whatever happens from that point on, you did your absolute best – dance so that is something you can say without a doubt."
Saugus wishes their dance team the best of luck as they continue their season and pursue their high goals. We congratulate them again on their admirable achievement of Regional Grand Champions, and are confident that they will continue succeeding as they work hard together!
Courtesy of Saugus Dance Team Moms