Saugus Girls Golf Season Check In
Saugus High School's girl's golf team has done very well this year.  Despite undergoing new coaching, they have kept the greatness from past years. After interviews with the girls golf coach, Mr. Miner, and athletes, there is a lot to look forward to going into the rest of the season.
After conducting an interview with Coach Miner, he shared that the girls golf team has been performing great and have improved every time going on the course. Coach Miner said,"I have been really pleased with the girls and their desire to improve every time we are on the course." Hopefully going through the rest of the year they can keep up this impressive play.
Throughout this season there have been a lot of standout athletes so far. These golfers are Maddy Seifert, Khloe Guerrero and Marianne Meadows. According to Coach Miner, these golfers have "been consistent every match and are the top 3 on the team and currently rank in the top 15 in the Foothill League." Let's hope these standout athletes continue their dominance and they win matches for their team. 
Khloe Guerrero, who is on the girls golf team said, "So far this season I would say I'm doing quite well for my freshman year. One thing I can work on to do better and play consistently is evenly dividing my practice time. I need to work on my putting and not just go to the range for hours at a time." With practice comes improvement. Marianne Meadows talked about what to improve on and said, "This season I've definitely been playing better than last year. I still have a lot to learn but I'm sure next season will be great. To improve I'm taking lessons and trying to spend time on the hard things like chipping. By explaining things to others, I'm able to learn more about my own swing and how to improve." Also, after an interview with Madison Seifert, she talked about what else she could improve on, "I would say I've been playing good and consistent this season, I feel like I can improve on my distances and chipping and putting more."  It's easy to say that these athletes have been great this year but are also seeking improvement like all good competitors do.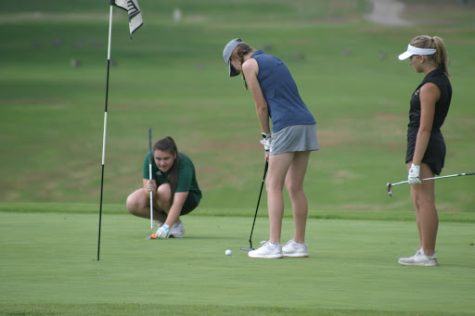 Looking forward to the rest of the season, Coach Miner believes that the improvements will come, and so will wins: "We are heading into our last 2 Foothill League matches and currently sit in 3rd place and we look to continue to improve every match." Saugus is currently 15-12 and they are 14-10 in the Foothill League. Let's hope that Saugus' Girls Golf team can continue to improve and win matches.