Laemmle Theatre Officially Opens In Old Town Newhall
The Laemmle Theatre in Old Town Newhall has officially opened to the public, marked by a ribbon-cutting ceremony attended by city council members, community members and the Laemmle family.
The opening comes after a year of delays, with the family-run theatre having been ready for its grand opening months ago, but cancelled due to the onset of the COVID-19 pandemic. The theatre was able to stay in business through the year by patrons buying gift cards and premier cards, as well as government stimuli. 
Now with its opening, the theatre can host patrons at 25 percent capacity and requires reservations for seats. 
The official opening of the theatre itself included a ribbon-cutting ceremony with remarks and congratulations from City Council members to the Laemmle family and community members. 
Mayor Bill Miranda began the ceremony, emphasizing his excitement over the opening.
"This theatre will provide residents with new opportunities for arts and entertainment. What was once an empty lot is now a vibrant cultural destination for residents and visitors," Miranda said. 
Laemmle Theatres has been a family-run business since 1930, with Greg Laemmle serving as the president of the company.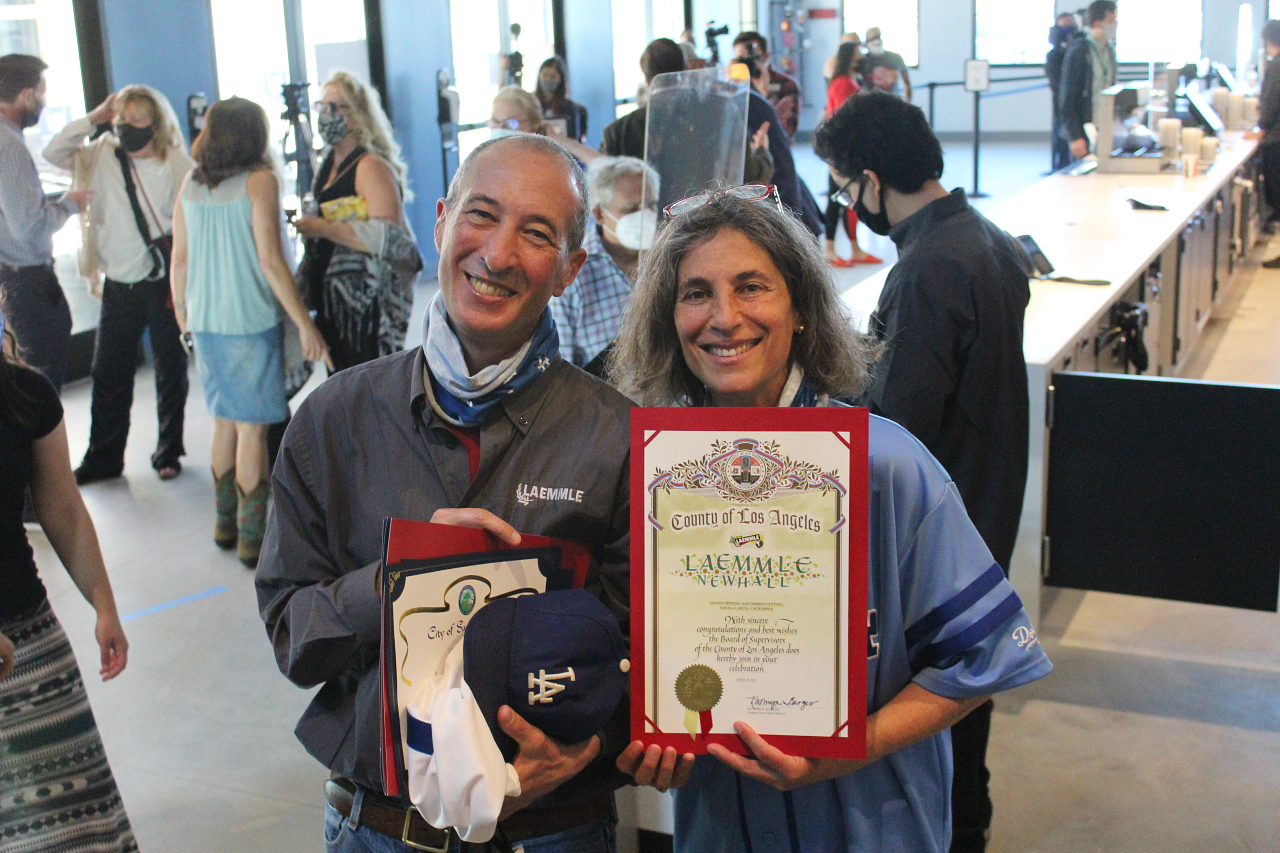 "For years I've been getting phone calls and messages asking 'when are you going to open a theatre in Santa Clarita,'" said Laemmle at Friday's opening ceremony. "We're here today to start showing movies and we'll be here showing movies for a long time."  
Commissioned in 2018, the Laemmle Theatre on Main Street includes seven screens with a total of 500 seats and 20,000 square feet of retail and restaurant space around the theatre. A 400 stall parking structure was also constructed alongside the theatre. 
The development is a part of the city's project to improve Old Town Newhall and bring in more cultural, entertainment and dining opportunities to the city. 
"Now we have one of the finest art and movie experiences in the nation here in downtown Newhall," said Congressman Mike Garcia, R-Santa Clarita, at the ceremony. "Good buildings are going up, the right atmosphere is being created and Santa Clarita has gotten better through one of the toughest years." 
Following the ribbon-cutting ceremony, patrons and city officials were able to enter the Laemmle Theatre's lobby, open to the public for the first time. Featuring hand-picked art, movie posters and a large concession stand, Newhall's Laemmle serves as a large venue for moviegoers.
In addition to its newest location, the Laemmle has reopened all but two of its locations in Los Angeles. 
The company has established their niche of featuring foriegn-language and independent films in their theatres, as well as big Hollywood films. Upon the first weeks of reopening, the theatre plans to host showings of 2021 Oscar-nominated pictures.
In addition to these movies, the Laemmle on Main Street also plans to host a showing of a film made by local 16-year-old, Griffin Lock, in the near future titled "A Spark in Nothing."
"That's the difference between us and a big movie chain," said Laemmle during a radio interview with KHTS. "When you call you will reach me, and when you email you will get a response."   
To find out more about Laemmle theatres and their operations, click here