World Cup Summary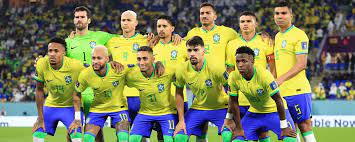 There are many world cup matches, but who will win? USA? Brazil? Netherlands? But let's back up, let's see who made it to the knockout stage! There are 14 teams who made it to the knockout round. 
USA
Netherlands
Senegal
England
France
Australia
Argentina
Poland
Morocco
Croatia
Japan
Spain
Brazil
Portugal
All these teams have qualified for round 16 of the World Cup. But what about the teams that did not make it? Unfortunately there are many countries that did not make it.
Itay
Sweden
Scotland
Ukraine
Nigeria
Algeria
Egypt
Colombia
Chile
Peru
New Zealand
Now maybe they did not make it this year but they might have a chance later. The next match the U.S. plays in is vs the Netherlands. The U.S. is playing at Khalifa International Stadium Saturday at 7:00. 
"Brazil eats, sleeps and drinks football. It lives football!" Quote by Pele
I think that Brazil will win the World Cup. I think that Brazil will win because it is known as the country of football. According to Fox Sports Brazil has won five World Cups! 
Lets see who will make the Quarter-finals and the Semi-finals. And of course let's see who wins the finals!