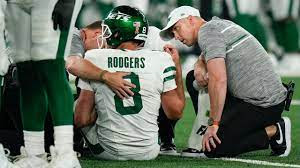 NFL Week one is over and here is everything you need to know about the games and what it means for the rest of the season.
Most notably, New York Jets star quarterback Aaron Rodgers suffered a season ending                                                                                                                    injury in the first quarter in a game against the Buffalo Bills at MetLife Stadium, the Jets home stadium. After signing a 2-year, 75 million dollar contract with the Jets just months before. After a whole 94 seconds on the field Rodgers left the game to an Achilles tendon injury. The injury is expected to be season ending for Rodgers. Jets backup quarterback, Zach Wilson, stepped up and led The Jets to a 22-16 victory over the Bills.
On another note, the Dallas Cowboys blew out the New York Giants 40-0. Cowboys Quarterback, Dak Prescott, passed for 143 yards, however what was more impressive was the Cowboys defense. The Cowboys totaled 7 sacks in one game, along with 2 interceptions. The opposing team, the Giants, are the only team to have not scored yet this season. Charlotte Carol, a sports writer, comments on the Giants' performance: "The collapse of the offensive line became the focal point in a game."
Despite the Cowboys blowout victory they are not on the top of the Sports Illustrated power rankings list. The San Francisco 49ers is the most powerful team in the NFL today. With a well rounded defense with star players like Fred Warner and Nick Bosa. Other teams will have a very difficult time scoring against the niners this season. The offensive side of the team is even more impressive, Christian McCaffery ran the ball for 152 yards in game one and scored one touchdown. Tight end George Kittle, and wide receiver Deebo Samuel, are also very valuable assets to the 49ers offense. It is safe to say that the 49ers will be a powerhouse this season.
Our local Los Angeles Rams also won their game, tallying 30 points against the Seahawks 13. Meanwhile, The Los Angeles Chargers lost their game 1 at SoFi Stadium with the ending score being 36-34 in the favor of the Dolphins. 
With the season just starting, we have a lot to look forward to. The exciting games your favorite team plays throughout the season, watching football on Thanksgiving with family, the race towards the postseason, and the Super Bowl in February. This eventful week of football
is only one of many to come, so cheer on your favorite team, get a jersey with your favorite player, turn on your TV, and get ready for football!