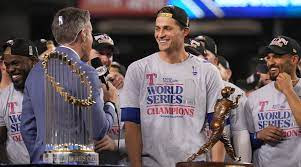 After being a team for 62 years, and playing in Texas for 51, the Texas Rangers have won their first World Series in franchise history. Coming back from a 100 loss season 2 years ago, and a losing record last year, the Rangers rebuilt team managed to squeeze into a Wildcard spot, and worked their way all the way to the World Series. Many records were broken on their journey.
The most notable is the first Rangers World Series win. Taking the title of World Champions allowed the Texas Rangers to leave the group of only 6 teams to have never won a World Series. 
The Texas Rangers claimed the record of both the most away games won in a postseason, and the postseason away game win streak record. Through all 4 series the Texas Rangers played in, they managed to win every single game on the road. Going 11-0 on the road, the Rangers stayed electric even away from the fans and the field they know best. The Rangers also achieved the highest Postseason run differential. They managed to score 42 more runs than their opponents, the most in history.
Rangers short-stop, Corey Seager, became the first person in baseball history to win the World Series MVP award with a team from both the American and National Leagues. He also joins an elite group of 3 other players who have won a World Series MVP twice. 
Rangers rookie center-fielder, Evan Carter, broke the single postseason doubles record, by knocking in his 9th in the 7th inning of World Series game 4.
A crazy coincidence lands an amazing reliever a baseball record. Will Smith, the relief pitcher, was on each of the last 3 World Series winning teams. Rangers in 2023, Astros in 2022, and Braves in 2021. He became the first person to win 3 consecutive World Series with 3 different teams. Another funny coincidence is that in 2020, a different Will Smith won a World Series with another different team. 
Adolis Garcia was a powerhouse for the Rangers in the postseason. He broke the single postseason RBI record. Knocking in 22 through the Rangers postseason run, Adolis Garcia was a huge part of their success.
Rangers ace starter Nathan Eovaldi broke another record for the Rangers. Tallying 5 wins in the postseason, that ties the all time record. However he only got 5 wins, the Rangers won all 6 of the games he started. 
The Rangers clearly fought as hard as they could, and despite all odds they pulled off their first World Championship, and no team deserved it more.