A New Readers Guide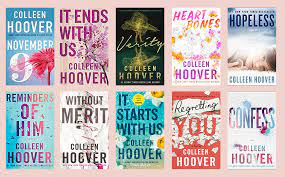 As the fall and winter season are approaching, the weather becomes perfect to crack open a book and sit by a fire. Reading during the holiday season is a great way to start one's literature experience, so I've put together my favorite reads for a new reader.
When it comes to all things contemporary romance, Colleen Hoover is the most popular author right now. Almost all of her books are New York bestsellers and she continues to shake the book world with her stories that are nothing like the common romance novels. My top 5 recommendations are as follow: Photo creds: mmbbookblog.com 
Reminders of Him – 
This book is one of the most underrated of all. The story follows a young woman who was in a tragic accident 5 years prior to the opening pages. She is forced to overcome experiences that the majority never face in her fight to gain custody of her child who she has never met. Her story is extremely sad but her journey to overcome her mistakes is truly remarkable. It's one of those books that speak for themselves and is a must read. I finished it in about 6 hours because of how well written and engrossed I was by the storyline and characters. 
It Ends With Us –
This is the novel that could make anyone fall in love with Colleen Hoover. It is by far her most popular book and is a great read. It follows a fairly sad story line about domestic abuse and childhood impressions, but has underlying messages throughout that are greatly important. Trigger warning to anyone who is sensitive to abusive conversation. According to Wikipedia, It Ends With Us debuted at #1 on the NY best sellers list, and within 6 months, sold over 925, 221 units. Luckily for It Ends With Us fans, the sequel, It Starts With Us, just released and it is already hitting top charts worldwide. This book deserves all the hype it gets! 
             Verity– 
Okay, this one is definitely a switch in the usual flow of Colleen Hoover books. It is a thriller romance that includes several spooky experiences. Overall, this storyline was so well executed that it is a must read for anyone interested in thrillers and contemporary romance. Junior Joycelyn Golchin told the Scroll that she "literally could not put it down, I loved every second of it." But, beware of the rating, this book is meant for mature readers, for there are many adult scenes. It's one of those books that has you asking questions well after you complete it. If you enjoy thrillers with a mix of romance and twist this book is the best for you! 
November 9–
One thing Colleen is known for is her plot twists; this book definitely shows this style. The timeline and flow of this book is very interesting and makes it impossible to put down. It includes a dual timeline containing the POV of both main characters every November 9th for 5 years. I'd recommend this book to anyone who loves a good dual timeline with a crazy twist. 
Layla– 
It was hard to pick which book goes 5th because I love all of them, but Layla is a paranormal romance that I enjoyed. Again, the pacing is fast and as it continues, it reveals so much more than what meets the eyes. It is another dual timeline but this time in the male POV for the whole book which is a fun change of pace. This story is not the usual read and would be a fun book for someone who doesn't usually read romance but loves a good psychological thriller. 
Collectively, Colleen Hoover's range in her writing style appeals to all varieties of readers. They also discuss serious topics that are important to shed light on and bring awareness too. Make it your mission to crack open an enjoyable book for this holiday season!