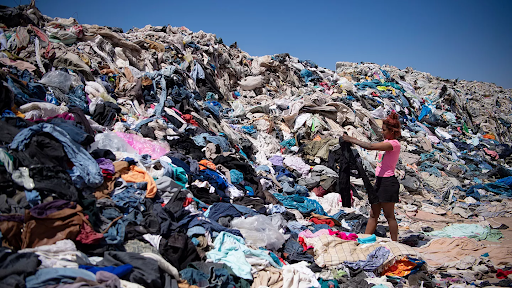 Fast Fashion is Unfashionable
Shein, Zara, Forever 21, H&M, Primark, Temu, Old Navy, GAP, Romwe, Target. Is your favorite place to shop listed here? Though these brands are popular with the new shirt or pair of pants you've been wanting, the clothes in the window are just the surface of the fashion industry; what most people aren't aware of is what goes on behind the scenes: a cycle of environmental damage.
Fast fashion is cheaply made clothing that is produced at rapid speeds to keep up with the current trends. Brands compete to produce the clothing as fast as they can to make sure they get the most money out of it. The consequences are a ruined environment, underpaid workers, and pollution. Now knowing this information, you might think it's easy to solve the problem of fast fashion, but it's easier said than done. 
When clothes don't fit you or when they're not trending anymore, what do you do with them? Do you throw them out? When clothes get thrown out in dumpsters, it causes landfills to fill up with discarded clothing and textile waste to build up and amount to extreme loads of pollution. Fast fashion is responsible for about 10% of carbon dioxide emissions; animal-based textiles such as racoon dog fur and fox fur are responsible for greenhouse gas emissions, deforestation, water pollution, and other negative effects towards the planet. 
To be specific, Shein has many problems within its production process. An article published by The Cut said that a group of internet influencers were flown out to China to take a tour of the Shein warehouse. Most of them had positive reviews of the tour; one of them, Dani DMC on Instagram, even said after she talked to a Shein employee that she was "excited and impressed to see the working conditions." However, in October of 2022, an undercover investigation by the UK broadcaster, Channel 4 revealed that in one factory, the workers were making 4000 yuan per month, which is about $546, to make 500 pieces of clothing per day. In another Shein factory, women were found using their break time to wash their hair, which is shocking as they should be given time outside of their work period to do something as simple as washing their hair. The employees in both factories worked 18-hour days and were given one day off per month; if the workers made one mistake, two-thirds of their monthly pay would be taken away in order to punish them.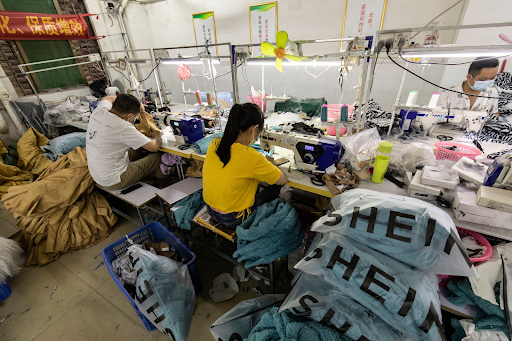 Photo courtesy of https://www.businessoffashion.com/news/retail/report-shein-violating-labour-laws/
Regarding the quality of clothing from certain shops, Saugus freshman, Sage Gonzales, has something to say about it. When comparing Old Navy and Etsy in quality, she said, "[Quality is] either really good or really bad and I feel like it's really a toss-up when it comes to Etsy. Old Navy: it's Old Navy. Everybody knows it, everybody has something from there; it's good quality stuff." The Scroll also asked Saugus freshman, Keylani Ceja, to compare Target and Levi's price wise. She stated that the price difference doesn't concern her "if the quality is better."
Some of the biggest problems in the world today are solved by taking the smallest actions. Ditch fast fashion and help save the planet. Here are some things you can do:
Refrain from purchasing from brands that participate in fast fashion.

Some people might go for low-cost stores with the more "in" clothes, and it's understandable why these brands are a staple in fashion today because of their prices. However, by spending a little bit more money, you could help save the future of our planet. Some popular brands that don't do fast fashion are Patagonia, Levi's, Reformation, Etsy, People Tree, Beyond Retro, and Stella McCartney. Here's also a list of

99 sustainable brands

that don't participate in fast fashion.
Buy from thrift stores.

Buying from a thrift store is a great option; you can score some great pieces at an affordable price. It's just like recycling, but with clothes!
Donate unwanted clothes.

Instead of throwing out the clothes you don't want anymore, you can donate them. Here in Santa Clarita, there are a few different places where you can donate clothes such as Goodwill, Hope of the Valley Thrift Store, The Salvation Army Thrift Store & Donation Center, and The Assistance League. You can also give them to family members and friends. 

Famous British designer Vivienne Westwood, said, "Buy less, choose well, make it last." The listed solutions are only some of the steps we need to take as a community to keep our earth green and clean