The Best Cannoli Recipe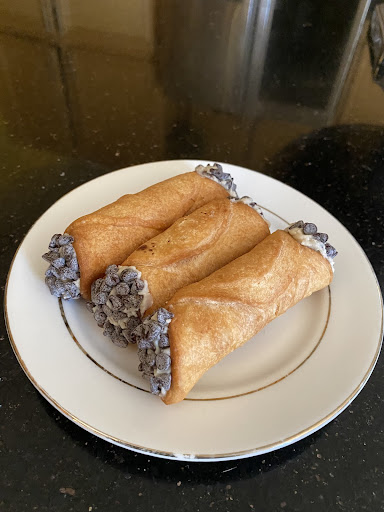 Cannolis are an Italian pastry originating from Sicily. They consist of tube-shaped shells of fried pastry dough (called scorza, generally measuring 5-inches to 7-inches in length) with a creamy, ricotta cheese-based filling. This recipe is delicious and authentic and is definitely worth a try. 
Serving size: 28
Total time: 1 hour 45 minutes
Prep: 40 minutes Cook: 20 minutes Chill: 45 minutes
Ingredients
Shells
1 3/4 cups (250g) unbleached all-purpose flour (scoop and level to measure)

1 1/2 Tbsp (18g) granulated sugar

1/4 tsp salt

3 Tbsp (43g) unsalted butter, diced into small pieces

1/3 cup marsala wine*, then more as needed

1 large egg

1 egg white

Vegetable oil or shortening, for frying (about 8 cups)
Filling
32 oz. whole milk ricotta, strained**

1 1/2 cups (180g) powdered sugar***

3/4 cup (126g) mini chocolate chips

1/4 tsp ground cinnamon****

Chopped unsalted pistachios, optional
——————————————————————————————————————————-
Instructions
For the Cannoli Shells
To a food processor add flour, sugar and salt. Pulse in short bursts about 10 times. Add butter and pulse in short bursts just until there aren't clumps of butter.

Add in marsala wine and a whole egg. Pulse to mix well, while adding additional wine to bring dough together in a soft shaggy mass (you shouldn't need more than a few Tbsp extra wine).

Shape into a round, transfer to an oiled bowl. Cover and let rest at room temperature at least 30 minutes and up to 2 hours.

Heat a large pot with 1 1/2-inches vegetable oil to 345 – 355 degrees. Working with half the dough at a time (and keeping the other half covered in the bowl) roll dough out very thinly onto a well floured surface (nearly 1/16-inch).

Using a 3 1/2 to 4-inch cookie cutter, cut dough into rounds. Spray cannoli forms with cooking spray then wrap individual dough circles around each cannoli form, while brushing about 3/4-inch of one end lightly with egg white (use a pastry brush or just your fingertip). Press edge to opposite side.

Using metal tongs, carefully immerse the shell in preheated oil and fry until golden brown and crisp, about 1 – 2 minutes (be sure to watch oil temp so oil doesn't get too hot and burn shells. You can fry up to 6 at a time).

Remove from oil using metal tongs to grasp the cannoli shell (let oil from inside forms drain back into the pot), transfer to paper towels to drain. Use metal tongs to hold mold (or folded layers of paper towels) and wrap a paper towel around the shell to carefully slide off of form.

Let forms cool and repeat the process with remaining dough circles. You can shake excess flour from scraps, press back together, cover in a bowl and let it relax for at least 10 minutes then reuse.

Allow to cool on a wire rack then fill with cannoli filling and decorate as desired (with melted chocolate on edges, chopped pistachios, mini chocolate chips or dust tops with powdered sugar).
For the Cannoli Filling
In a mixing bowl fold and stir together strained ricotta, powdered sugar, chocolate chips, and cinnamon. Transfer into a piping bag fitted with a large round tip. Pipe filling into cooled cannoli shells.
Notes
*Dry or sweet marsala wine can be used. Marsala wine can be replaced with 1/4 cup grape juice or water and 1 Tbsp vinegar, then add more juice as needed.

**I like to use a brand of ricotta that's not runny (such as Galbani), then I spread across paper towels, cover with more paper towels and press out some of the extra moisture and roll up, then unroll and drop into a bowl. For wetter ricotta

here

is a link that shows two straining methods.

***1 cup granulated sugar can be substituted for powdered sugar just be sure to stir enough to dissolve granulated sugar.

****Cinnamon can be omitted or doubled. Different regions of Italy make cannoli differently so go with what you like. Orange zest, chopped maraschino cherries, or vanilla extract/vanilla bean can also be added to the filling.
This recipe was easy to make and tasted phenomenal. The shells were perfectly crisp and the filling had an amazing texture. It tasted as though it was fresh out of an Italian bakery. Overall this was one of the best recipes I've ever made.