Have you ever been to Carpinteria and looking for a tasty sit-down restaurant? If you have, then I have the perfect place for you: Chemintines Steak House. Chemintines Steak House's rating on Tripadvisor is four out of five stars and is also the seventh-best restaurant in Carpinteria. This restaurant is known for its many different types of pies and steak. Their hours are 4:30-9 p.m. Wednesday-Sunday.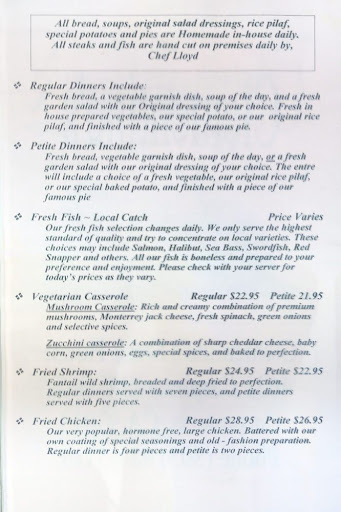 Photo Courtesy of tripadvisor.com
I have gone to Chemintines twice and both visits were great experiences. The outside of the restaurant is decorated with vines, trees, and hanging plants. Not to mention, this steakhouse is right by the ocean which gives it a very beachy smell! While walking inside, my family and I were greeted by kind staff members, allowing us to feel very welcomed. We were seated almost immediately and brought water in pretty glass cups. The inside of Chemintines was also covered in plants and was very open. It had a lot of different types of windows and old time lamps. The waitress was so sweet and talked to me and my family like she actually cared about us. I went with my parents and we all ordered different items on the menu. I got the most popular item on the menu, the Casserole. Specifically, the Zucchini Casserole. I got the pleasure of talking with the owner, Lloyd McLenithan, about my dish. Lloyd said how my dish, "Zucchini Casserole was a special on the menu before but over time [he] realized it was too popular of a dish to be left to rest after being taken off the menu. Which was a weird surprise since Chemintines is known for [the] different varieties of steak and pie." My mom got the New York steak and my dad got Teriyaki New York steak. My family and I really enjoyed the main meal because it was so rich and it felt like it was made with love and care. A fun fact about Chemintines is every meal they serve comes with a complimentary slice of pie of your choosing. My family and I all ordered the pumpkin to match the fall season. It was extremely good, with a rich flavor and creamy texture. Our food was on our table within 10 minutes, allowing it to still be warm. Our pies came on cute and petite pastry plates, drizzled with cinnamon. I would 100% recommend this restaurant because it has an amazing environment that makes you feel like you are truly cared for, not to mention how the food is heaven on Earth.