Black Friday Vs. Cyber Monday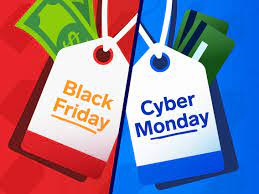 This past week was Black Friday and Cyber Monday but which one is better? They both have good deals and they both are fun to participate in. When Black Friday shopping, there are many different deals but you have to deal with long lines and crazy people trying to get the same thing as you, but Cyber Monday has good deals and you can do it in the comfort of your home.
Black Friday is the best time to buy the things you want without breaking the bank, but you have to be okay with the long lines and crazy crowd of people. When asking Saugus High Students their experiences during Black Friday, Saugus student David Alexander said, "Black shopping is worth it depending on the wait of the line because sometimes the lines are too long and not worth the sale." 
Cyber Monday is also a great time to buy things you want without the crazy prices of those items. Not only do you get to take your time looking at what you want, you don't have to wait in lines and deal with crazy crowds and people. Saugus High School student  Jaden Rivas said, "I like Cyber Monday more because I get to shop in bed and don't have to worry about all those people trying to get the same thing as me." 
Overall, Cyber Monday is better than Black Friday. On Cyber Monday, you are able to be in your home without any stress and getting good deals rather than going to a crowded mall with long lines, and have people fighting to get the same items as you.