Ahmaud Arbery Trial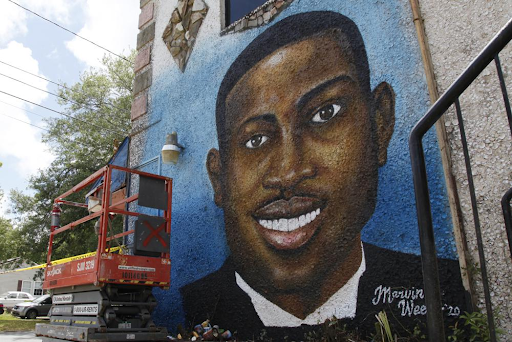 ***Warning: The content below is not for everybody. Mentions trials and gun violence***
On January 7th, 2022,Travis McMichael (35), Gregory McMichael (65), and William Bryan (52), were put on trial for the murder of Ahmaud Arbery. Both McMichaels received life sentences and Bryan received a sentence of thirty years with possibility of parole. Although these men received the maximum punishment, a question still remains controversial, "Has justice truly been done?" mentions an article by CNN. Many would say justice was served, but there are also plenty of individuals who believe more should have been done.
February 23, 2020, an innocent man named Ahmaud Arbery, was jogging outside his home in Brunswick Georgia, when he later found himself being chased by three white supremacists. Suspects chased him, carrying loaded weapons, later shot and killed Arbery, who will forever be 25. 
The killers were eventually arrested and placed in prison, but only recently put on trial.Born May 8th, 1994, Ahmaud was beloved by his parents and peers "Those who knew him speak of a seemingly bottomless reservoir of kindness he used to encourage others, of an easy smile and infectious laughter that could lighten just about any situation" disclosed an AP News and Ahmaud's friends. Due to his death, Ahmaud will never receive the bright future ahead of him. He will never be able to eventually find his place in the world, find a career he would be passionate about, find a spouse and get married, or even start a family. He, along with many other victims, do not deserve this fate.
The family of this young man is now left grieving for their deceased child. Ahmauds father, Marcus Arbery, spoke, "'Not only did they lynch my son in broad daylight,' he said, 'but they killed him while he was doing what he loved' more 'than anything — running,' …'That's when he felt most alive, most free. And they took all that from him' courtesy of ABC News. These three individuals who were arrogant about human rights and life, committed such a senseless act that only sick minded individuals can do.
 His mother, Wanda Cooper-Jones, also spoke powerful and moving words, "'I made a promise to you the day I laid you to rest. I told you I love you, and someday, somehow, I would get you justice,'" stated ABC News. Not only was a father and son relationship destroyed, the bond between a child and a mother was also taken away as well. A mother always wants her child safe and unharmed from the dangers of the world. Ahmauds mother experienced the worst fear a mother could ever think about, not being able to protect her child when he was in danger. Parents should never experience this fear in their child's life and even attend their funeral as well. Ahmaud should be safe in his parents arms, alive and safe.
Fortunately, Ahmauds parents got their wish and these men received the maximum penalty. All three of these men were found guilty of, "one count of malice murder, four counts of felony murder, two counts of aggravated assault, one count of false imprisonment and one count of criminal attempt to commit false imprisonment" stated USA Today. Racial intentions caused this murder to take place as well as using an object that can cause bodily harm and possible death. The killers were bound for life sentences based on the severity of these charges. Unfortunately many other murders still roam free for racial killings, but at least one case did not get away with their actions.