Mother's Day Gift Ideas
Mother's Day is coming up and not everyone has a gift in mind, so look no further as these are a few gift ideas for the lovely mother figures in your life.
A homemade gift is always a way to warm your mother's heart. She loves you and will think anything you make her is absolutely wonderful. Whether it's a bracelet made from beads, a card or just a picture of the two of you. You could make her a college or book of photos of the two of you together. 
Moms work and constantly do things for the family, so a night out or dinner would be a good way to show appreciation for all that she does. 
If you aren't sure what to get her, you can always go with a gift card. Gift cards are a great way to fund the shopping experience so that your mom can get what she wants without having to pay.
If nothing sounds interesting yet, you can purchase a pretty jewelry item. You could get her a necklace from Kay or a charm bracelet from Pandora.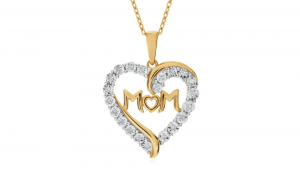 The final and probably most important, is a day off. For one day you could do the housework and cooking so that your mom doesn't have to. She can sleep in, relax and have time to do the things SHE wants to do. 
Whether you are looking to spend money or not, there are plenty of ways to show your mom just  how much you appreciate her.