How to Finish an Assignment in 10 Minutes (Works 100%)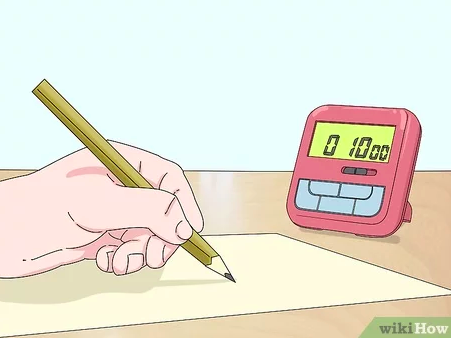 "Don't stress yourself," teachers say to teenagers, as they give them 12 assignments that are due the following day. Many students suffer through the cycle of spending way too much time on homework than they're supposed to. If you're one of these people, here is a 100% effective guide which guarantees finishing any assignment at the maximum of 10 minutes.
Feeling stressed? (Method 1)
Students may feel overwhelmed and stressed from the amount of homework assigned to them. Therefore they are prone to taking a much longer time to finish their assignments. However, there is a very simple solution to this inconvenience which will definitely help these stressed students no longer take a lifetime finishing their work. 
Don't be stressed. Simply ceasing to be stressed will definitely help students take less time to finish their assignments. This method will help any student finish their homework at the maximum of 10 minutes.
Do it 10 minutes before it's due (Method 2)
Any student who cares about their grades surely wouldn't want to turn it in their work late. This is because in many cases, turning in late work will only receive partial credit. Some merciless teachers give their students no credit at all for late work. 
So an efficient method that will make anyone finish their homework in under 10 minutes, is to do it 10 minutes before it's due. Doing this will force students to finish it before the due time. This method may be stressful, but it will not be if you apply Method 1. Anybody who tries this method will always finish their assignments much faster. 
Homework too hard? (Method 3)
One of the main reasons why students take a long time finishing their homework, is because they do not understand it. When somebody knows exactly how to do their homework and does it with ease, they will complete it in a much faster time. This setback that many high schoolers face will be solved with this extremely useful method. 
Simple, be smarter. If you become smarter, then you will understand your homework better, and work more efficiently. Comprehending information and the context of your homework will increase your ability to finish it without struggle. It is unknown why many students do not use this. 
It is important to not overwork yourself. Following this guide will DEFINITELY help you finish your work at the most 10 minutes. This guide has changed many lives for the better. 
April Fools! All stories published today on The Scroll are satire. None of the facts, quotes, or details in the story above are true and should not be taken as fact.