Smile, SCV! Spotlight
Kelly Zarate, The Scroll, Co-Editor in Chief
November 20, 2020
As a result of the covid-19 pandemic and the school shut down, which took place mid-March, many news clubs around campus were being made, one being Smile, SCV!
Founder and a sophomore at Saugus High School, Regina Lee, states that she noticed a lot of negativity in the news and was inspired to start Smile, SCV! when she saw families and businesses struggling across the nation. Lee wanted to create a more local impact: "That's why I decided to partner up with Santa Clarita Grocery and the Boys and Girls Club of Santa Clarita Valley. [Both] are two organizations that play a huge role in the people of Santa Clarita Valley's lives, making sure that the children and adults of Santa Clarita stay mentally and physically healthy."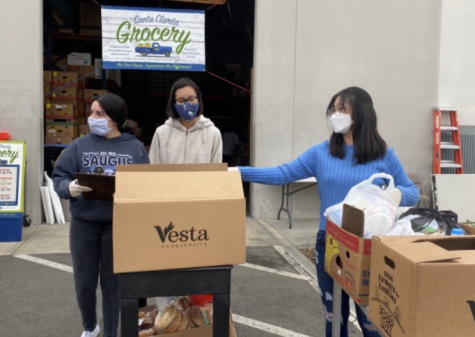 Santa Clarita Grocery is a volunteer-based organization that serves a week's worth of grocery items, along with personal care, to those in need. The second organization that Smile, SCV! partnered up with is called the Boys and Girls Club of Santa Clarita. According to the SCV boys and girls website, the organization provides opportunities for young people to learn, participate, and contribute on a grander scale, as well as supporting and helping the children grow. Lee stated in a recent interview with The Scroll, "… not only are we partnered with outside organizations, but also we are helping our hometown and community."
In just the past few months that the club has been on campus, it has already received a lot of attention. Currently, the club is organizing a toy drive from November 30th to December 4th. Students and residents all over the community are welcomed to donate new or boxed toys such as Legos, Play-Doh, school supplies, or children's books. Items that are donated must be either new or boxed. The Saugus campus will be open throughout the week of the toy drive from 8 AM to 3 PM. All of the proceeds will then be donated to the Santa Clarita Valley Boys and Girls Club.
The club has four officers, Regina Lee as president, Stella Vianzon as vice president, Maddie Campeau as secretary, and Sophia Cervantes as Treasurer. Vianzon states, "Joining this club gives any and all members amazing community service opportunities. This club is a forum for students that want to be involved in our community and help those that are struggling due to any circumstances."
Students who wish to get involved in this club dedicated to helping the community, follow @smile.scv on Instagram, or join their Zoom Meetings that take place every other Monday.