Hometown Heroes: Three Santa Clarita Residents Honored By Red Cross
Saugus choir director Kaitlin Holt and Santa Clarita sisters Cambria and Maci Lawrence were recognized and honored on Thursday by the American Red Cross Los Angeles Region as "hometown heroes." 
The Red Cross awards those who demonstrated an act of heroism by saving someone's life, a recognition that Holt's and the Lawrence sisters' actions during the tragedy of November 14, 2019 earned them.  
Cambria, a student at Valencia High School and Maci Lawrence, a student at Legacy Christian Academy, began a nonprofit organization in 2018 called "Keep the Pressure," urged by the need to make school's in their area safer. With charitable donations, support from parents Dr. Bud Lawrence and Dr. Regan Lawrence, and partnership with Hart District, WiSH Foundation and Henry Mayo Hospital, the sisters were able to assemble and provide training for more than 1,200 bleed kits.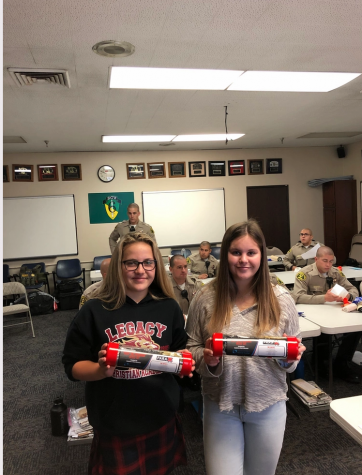 These kits were then distributed to different schools, organizations, and to SCV Sheriff's station vehicles. While the kits were implemented into schools as a precautionary measure and not specifically designed to treat gunshot wounds, this kit and training would be used to save a life during the events that transpired last year. 
"As a family, we are humbled and grateful that our kits were in the right place where they were needed," said Dr. Bud Lawrence, an emergency room physician at Henry Mayo Newhall Hospital to KHTS Hometown. "The girls have a mission to get these kits into as many classrooms, businesses, places of worship and even homes as possible." 
The sisters are now focused on extending Keep the Pressure's reach to a national level.
To find out more about Keep the Pressure, click here. 
Holt received the title of Hometown Hero when she saved the life of a student injured on November 14. Holt had received active shooter training since the beginning of her career, and when two students ran into her classroom seeking refuge, she locked her classroom and barricaded the doors. 
The choir director then recounts realizing that one of the five students injured that day was in her classroom, and she used a "Keep the Pressure" bleed kit to save the student's life.    
"I have so much respect for her," said Zoe Jacobs, Saugus student and who was present in the choir room at the time of the shooting, to KHTS. "I don't know how she did it. I loved her even before, and I think we are all just amazed with how incredibly she performed."
Two months later, Holt was honored by the American Tactical Defense, an organization that administered active shooter training to staff at the school where she worked in 2018 as a student teacher.
 She was presented the first Civilian Hero Award of 2020 at the Ontario headquarters of Mag Instrument' Inc., manufacturer of Maglite flashlights, which are the standard issue flashlights of American law enforcement officers.
Holt and the Lawrence sisters were recognized among 13 other Hometown Heroes by the Red Cross.