Election 2020: Everything You Need to Know About Voting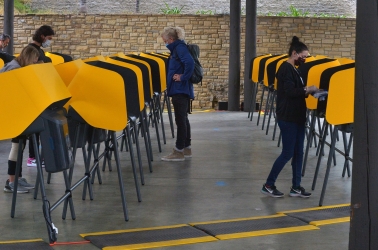 The years' election has brought record-shattering turnout and participation across the country, with nearly 62 million early ballots casted and seven days until Election Day on November 3. Fifteen million more pre-election votes have been cast than in the 2016 election, according to the U.S. Election Project. With increased voter participation and the makings of a historic election year, here is everything you need to know about voting in the 2020 Election.
Registering to Vote:
California and Los Angeles County offer online, by mail and in-person voter registration. Although the deadline to register online and by mail, both on October 19, has passed, voters can still register in-person at vote centers up until election day on November 3. 
To register, pre-register if you are under 18, or check that status of your registration, click here. Links can also be found on the Saugus High School website under quick links.
If you are registering or re-registering less than 15 days before the election you will need to complete the Same Day Voter Registration process and request your ballot in person at your county elections office or polling location. Click here for more information.
Mail-In Voting
Due to coronavirus possible postal delays and the large number of ballots coming through the mail, the state will count ballots that arrive as late as November 20 if they are postmarked by Nov. 3 — Election Day — or earlier. 
On May 8, Governor Gavin Newsom issued an executive order that ordered every registered voter in California receive a mail-in ballot before November 3. If a ballot is misplaced or you did not receive one and are registered to vote, you can request a new ballot until October  27 here.
Mail-in ballots come with a return envelope and do not require a postage stamp to be mailed. 
State-authorized election ballot drop off boxes are clearly marked "Official Ballot Drop Box" along with the county's name. A courier will deliver dropped off ballots to your registrar. Ballots can also be taken straight to the registrar's office. To find a ballot drop box near you, click here.
The California Secretary of State introduced a new way to track and receive notifications on the status of vote-by-mail election ballots. By checking the status, voters are expected to be able to see when their ballot arrives and see updates as they come, according to the Secretary of State's office. The program, called "Where's my ballot?," sends voters automatic emails, text messages or voice call notifications about their ballot. Voters can register for this notification by signing up here. 
In some states, election workers can not begin the work of opening envelopes, verifying signatures and removing secrecy sleeves, let alone counting, until the day of the election. This means it may take hours or days after the polls close for a state to declare a winner, pushing back the final results of the election. In California, ballots begin to be processed two weeks before Election Day and are counted on Election Day.
The last day for states to resolve contested election results — what's known as the "safe harbor" deadline — is December 8, with the Electoral College set to meet in each state on December 14 to formally cast their votes for the president. 
In-Person Voting
Although all registered voters in L.A. County were issued vote-by-mail ballots due to the coronavirus, residents are still able to cast their ballots in person both before and on Election Day.
On Saturday, October 24, select voting centers opened for in-person voting, including those in Santa Clarita. All vote centers are set to be open on October 30 as well, according to the L.A. County Registrar-Recorder/ County Clerk's office. These dates mark the early voting time period, and are open every day from 10 a.m. to 7 p.m. 
On Election Day, November 3, vote centers are set to be open from 7 a.m. to 8 p.m.
If you have voted in California before, you do not need to show ID. If you are a first time voter who registered by mail, and didn't include your driver's license number, California ID number, or the last 4 digits of your Social Security number on your registration, you may be asked to provide ID when you vote. Acceptable forms include: copy of a recent utility bill, the sample ballot booklet you received from your county elections office or another document sent to you by a government agency, a US passport, driver license, official state identification card, or student identification card showing your name and photograph.
Voters without ID: If you are unable to provide ID, you will be able to vote a provisional ballot.
Voting centers will be implementing safety regulations and social distancing practices. Voters must wear face coverings and gloves, which will be provided at the centers. Election workers will also be wearing protective gloves and masks. A social distance of six feet is also required and all surfaces and Ballot Marking Devices are to be sanitized and wiped down after each voter. 
To find a vote center in your area, click here, choose "Find a Vote Center," and enter location information. Until October 30, only select voting centers will be open for in-person voting.
Voting centers are where those who have not registered to vote yet can do so in-person and on time for the general election.
Voting centers also offer a "Quick Check-in Code" that can reduce the time spent checking in at the center. The Check-in Code is printed on the voter's mailed Sample Ballot and Vote Center postcard. After entering the voter's personal information, the barcode will appear under the registration information. Voters can show the code to an Election Worker when at the Vote Center to instantly check-in.
Additional Information
Information on candidates and props are included in the pamphlets in the mail-in ballots, will be provided at in-person polling centers and can be found here. 
For information on becoming an election worker, click here.