Popularity Rises in Streaming Services but When Will Movie Theaters Reopen?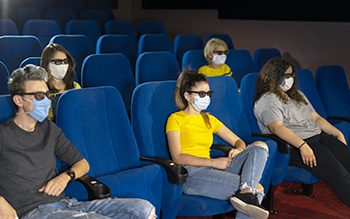 Streaming services have become more popular over quarantine. Movie theaters have not been open due to Coronavirus for several months. This is causing people to question and wonder when the cinema will reopen and what it has to offer. Meanwhile, audiences are exploring all different kinds of streaming services, some of which include movies that were planned to be released in the theaters. People that are wondering when theaters will reopen are watching movies including
Mulan, Miss Juneteenth, You Should Have Left, Da 5 Bloods, Just Mercy,
and many more are on streaming services. Saugus students can watch shows and movies that they love as a good way to relax and take their mind off of anything stressful. 
Some movie chains including American Multi-Cinema, have already started reopening theaters. The news publication Deadline states that AMC, a large movie theater chain, has reopened theaters in Orange County and San Francisco. This theater chain has counted one million admissions in Orange County within 20 days. Boxofficepro.com also states, "The two San Francisco theaters will be open for business today, Oct. 2. In California AMC previously reopened theaters in the San Diego Area, Orange County, and Riverside County.¨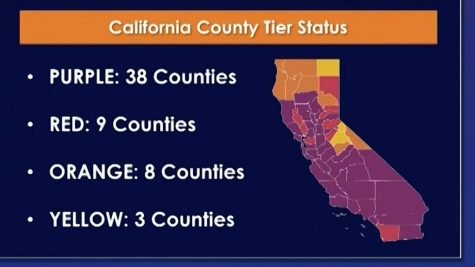 According to Variety magazine, California's Governor, Gavin Newson, has set some strict guidelines for when theaters reopen. These guidelines included a color-coded reopening system for different countries based on prevalence and testing rates of coronavirus. Variety continues: ¨Currently, 38 of the 58 counties, including Los Angeles and Orange County, with 87% of the state´s population, are in the ¨purple¨ or ¨widespread¨ tier. This means that more than 8% of the tests in those areas are coming back positive and that there are over seven new cases daily per 100,000 local people. In Variety´s article Newsom states, ¨COVID-19 will be with us for a long time and we need to adapt.¨
Regal and Cineworld Theaters started to reopen throughout several states, but are now shutting back down. All 536 of Regal´s Locations will be closed down on October 8th. Npr.org states, ¨The closure reflects an increasingly challenging theatrical landscape due to COVID-19 pandemic and is temporary," the chain said.¨ Regal was only open for less than two months, and now it has to close its doors again. Since most blockbuster movies including Wonder Woman 1984, Black Widow, and A Quiet Place Part 2 were postponed, Regal and Cineworld had empty theaters or limited audiences. 
The New York Times states, ¨On Monday, Cineworld, the parent company of Regal Cinemas, the second-largest theater chain in the country, announced that it would temporarily close its 663 theaters in the United States and Britain this week.¨ Despite this news, AMC will continue to reopen theaters, as well as some more theaters in New York and California, when it is safe. 
Since theaters in Santa Clarita are not open yet, some students from Saugus are wondering when they will reopen locally, and if they do, is it a good idea? Kelly Zarate, a senior student at Saugus says, "I think with the right restrictions that reopening theaters could work. There are so many possibilities and ways reopening the theaters could go wrong, like there would have to be enough distance between seats, and maybe the blasting air conditioner would have to tone down [for air flow]. Overall, I think it could be a good idea depending on the restrictions the theater lays out." 
Theaters that have decided to reopen have safety guidelines in order to slow the spread of coronavirus. Deadline.com says, "In accordance with a local directive, AMC locations in Orange County have limited the seating to 25% of maximum capacity or a maximum of 100 guests." AMC says that face masks are required and that they are limiting the ticket sales as well as including automatic seat blockers and seat spacing. There is also contactless ticketing and lots of cleaning procedures like frequent handwashing and hand wipes. Hand sanitizer will also be available. This ensures the safety of people taking a trip to the theaters. 
While people are waiting for theaters to reopen in their area, they have been watching TV shows and movies from their favorite streaming services. Watching these shows and movies, helps people unload stress and helps them practice social distancing. Students have also enjoyed watching their favorite shows and movies during quarantine to relax and take a break from work. A ninth-grade Saugus student, Natalia Diaz,  states,¨Yes, I have been watching tv shows and movies on different streaming platforms because with quarantine, everything has been really boring and there's not much to do." Watching TV can be a great way to entertain students during quarantine when bored. 
At the beginning of quarantine in March, streaming TV increased by 85% according to IndieWire. Their website states, "A new Neilson report obtained by Variety said that American consumers spent an estimated 400 billion minutes streaming content to their televisions over the first three weeks of March, an 85 percent increase from the same period on March 29." One of the main reasons streaming services has had an increase in viewers is the popularity of watching TV on these services. A report from Annenta states in their article that the amount of subscribers of Disney+ tripled over three days in March. Netflix´s viewers also increased by 47% and other services like Showtime, HBO Now, and Apple TV also increased. 
TvTechnology gathered data and states, "Hulu saw the biggest growth (25% to 35%), followed by Amazon Prime Video (38% to 44%). Netflix and Disney both saw a three percentage point growth-from 60% to 63% for Netflix and 29% to 32%."
Some movie theaters have started to reopen, but not locally. In the meantime, while people in Santa Clarita are waiting for other theaters to reopen, they are finding new shows and movies to watch on streaming services.