New October Additions to Grab and Go Meals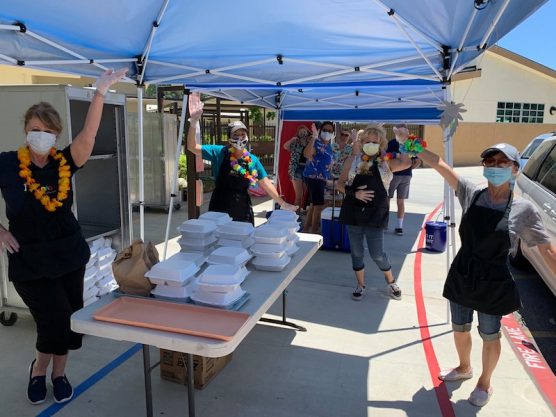 In addition to the daily Grab and Go meals offered at various school drive-thru sites during the week, the Santa Clarita Valley School Food Agency introduced new additions that include weekend meals, mini snacks, and fall break schedule for October. Meals are provided by the USDA and the program serves 38 schools around the Santa Clarita Valley.
Free meals to people under 18 in SCV that were available during the spring and summer were extended on September 3rd due to the COVID-19 pandemic by the U.S. Department of Agriculture. The program, known as School Day Cafe, allows any student under the age of 18, regardless of family income requirements, to receive a breakfast and lunch each during the week.
Many students and families rely on daily access to school breakfast and lunches during the school week, something that remote distance learning due to the coronavirus pandemic has been made harder to access. "Students can't learn when they're hungry," said Robert Luis, director SCV School Food Services Agency. "A lot of our families right now need the food and the nourishment. We provide fruits and vegetables, protein, bread and dairy. Our meals meet all the requirements for healthy Americans."
Since the onset of the pandemic, Luis reports receiving up to four times as many families using the service: "We are seeing parents we have never seen before. Some have unfortunately been laid off or had hours cut and need help because of the pandemic."
Weekend breakfast, lunch and dinner meals are being offered through October at the following school sites: 
October 2, 2020: Rio Vista and Cedarcreek Elementary Schools 
October 9, 2020: McGrath, Newhall, Peachland, Wiley Canyon, Canyon Springs, Mint Canyon, Valley View, Mitchell and Leona Cox
October 16, 2020: All schools (except Castaic USD.)
October 23, 2020: Castaic USD schools 
Weekend meals will be distributed at normal Friday drive-up services. 
Mini snacks are expected to be included in the Grab and Go bags as well on Oct. 12 at Sulphur Springs, Pinetree, Fair Oaks, Oak Hills, Stevenson Ranch, Pico Canyon, Old Orchard, Meadows, Plum Canyon, Skyblue Mesa, Rosedell, Foster, Highlands, North Park, Castaic Middle, Castaic Elementary, Northlake Hills.
When a school is closed during fall break, Grab and Go drive-thrus will also be closed at the school site. Families are encouraged to visit schools in neighboring elementary districts to receive meals.
Students 18 years of age or younger can receive a bagged or boxed breakfast and lunch in a drive-thru fashion at any of the elementary or high schools in SCV. Additionally, the meal site does not have to be the student's home school. Parents are allowed to come without children present and request the number of meals needed for their children. No proof of income, application or a student ID is needed
Menu and nutritional information can be found here. For more information, call 661-295-1574 ext. 0.