Small Businesses Owned by Saugus Students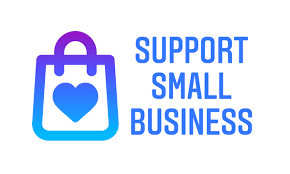 Kelly Zarate, The Scroll, Co-Editor in Chief
September 22, 2020
The popularity of small businesses has been rising and rising. Many small businesses have suffered during the pandemic, yet many people have created new ones during the midst of it all. Many students at Saugus High School have begun their own small businesses and use it as an outlet to express themselves and their passions.
Selfless By Isaiah
As a reflection of his morals, Saugus senior Isaiah Duarte decided to start his own small business selling bow ties and socks. Isaiah first got his inspiration to begin Selfless By Isaiah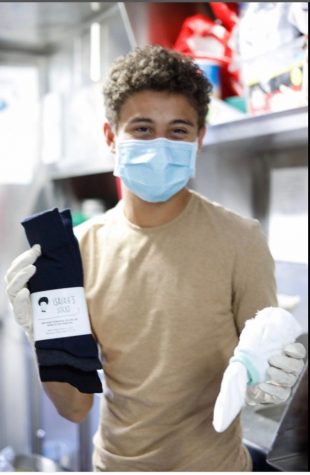 when he was just fourteen years old. "I saw that there was a need to help the homeless people…I wanted to make a change, and that's when I wanted to start a business to donate some of my proceeds to the homeless."
Working with Share a Meal and many other charitable organizations, Duarte began to expand his business. "Giving back is important. What really got me going with my business was giving back to someone. It feels good to give back to someone who needs it." 
Selfless by Isaiah consists of bow ties and socks with fun designs such as avocados, cats, and many other unique designs. Isaiah has made it his mission to give a pair of socks to the homeless, for every person who buys one. 
Instagram: selfless_by_isaiah
Website: isaiahs-bow-ties.square.site
Serendipity 
Through her love of fashion, senior Renee Devilla combined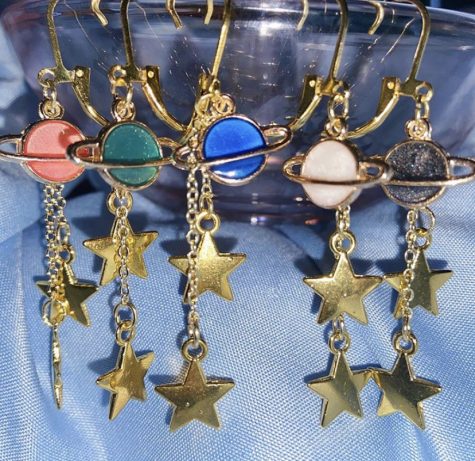 her passion with business and decided to form her own business called Serendipity.  "I always saw fashion as an outlet to express myself. Combining it with business (the career I plan on pursuing) was just an ideal way to begin building connections and gain experience early on," said Devilla in a recent interview with The Scroll. 
Devilla's business focuses on small jewelry pieces like earrings, bracelets, and necklaces. Though she only offers jewelry right now, Devilla plans on expanding soon, "I'm hoping to expand to other categories within the following year, possibly releasing clothes or brand new accessories."
Being a high school student and running a small business could be challenging due to the amount of workload and attention needed for each. Devilla said, "Balancing school and my small business is definitely a challenge…but I have found a good balance."
Instagram: serendipityxvi
Depop: reneedevilla
Iris Earrings
Senior Farah Mustafa has started her own small business called Iris Earrings. Mustafa grew inspired to create her small business by seeing others make jewelry of their own, "It looked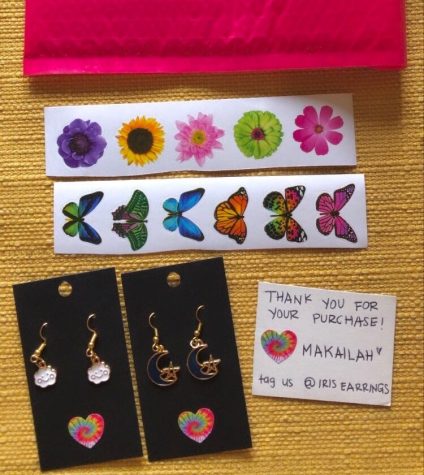 really fun, so I started making some, and people really liked them. That [later] grew into my small business."
Mustafa describes how she puts a lot of love and work into Iris Earrings: "I make earrings for people…I put a lot of effort and care into my work." Iris Earrings consists of fun dangling earrings. Mustafa uses her creative outlet to make her earrings, using small toys, erasers, and charms. She recently released her Halloween collection, which consists of skeletons, pumpkins, and spider earrings, just to name a few.
Instagram: irisearrings
Masks By Hay-j
Making over 300 masks, centurion senior Hailey Johson began her business at the start of quarantine. Due to the pandemic, front line workers and everyday civilians are in need of masks more than ever.  According to the saugus2021 Instagram page,  Johnson was inspired to begin Masks By Hay J when: "A couple of our family friends who were nurses needed masks,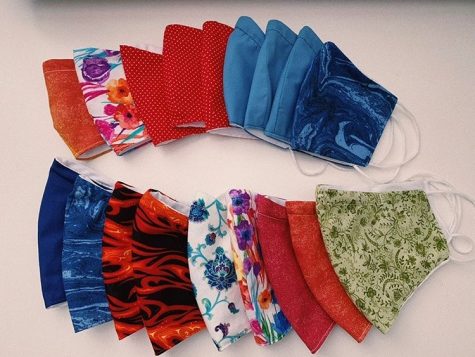 and since I know how to sew, I offered to make them with no fee. From there, I started making masks for my dad's coworkers with custom logos. It was not until this point that I started my business."
Johnson went into more detail in an interview with The Scroll, "I do sell custom masks, patchwork masks, and embroidered masks, next to plain masks."
Instagram: masks.by.hayj