Tight end for the Kansas City Chiefs, No. 87. Travis Kelce. He was drafted by the Chiefs in the third round of the 2013 NFL Draft and later won Super Bowls LIV and LVII with the team, recording a touchdown reception in both wins. She just recently came out with her Era's Tour movie. A multi Grammy award winner, singer/songwriter. In 2010 she became the youngest artist in history to win the Grammy Award for the Album of the year. Taylor Swift. 
It all started with Kelce saying that he attempted to give his number to Swift through a friendship bracelet during a stop on the Era's Tour. "I was disappointed that she doesn't talk before or after her shows because she has to save her voice for the 44 songs that she sings" Kelce says in July during his New Heights podcast co-hosted with his brother Jason Kelce. According to a rumor Taylor Swift wasn't against meeting Travis Kelce. On September 24, she accepted his invite to attend a Kansas City Chiefs game, and things escalated from there. Senior, Ysabella Rasipora expresses "I think they're dating, they are cute together" 
One day after her Era's tour film premiere she visits a Chiefs game. 
After the rumor went around about the two dating, Swift has appeared at the last four games for the Chiefs, giving the media rate for the NFL a boost. The Swift Football mania started during week 3 of NFL season, and still surrounding the attention during week 5. When Kelce and Swift visited Saturday Night Live (SNL) was a last minute surprise. Both weren't planning on going to SNL, but stepped out to support the host Pete Davidson and guest Ice Spice. Travis Kelce, Taylor Swift, Chariah Gordon and Mecole Hardman Jr. on Oct. 22, 2023. Photo: CHARIAH GORDON/INSTAGRAM
The NFL star and singer-songwriter were photographed holding hands as they left the premiere late last night and continued spending time together at the SNL afterparty at Catch Steak located in NYC. But neither Swift or Kelce publicly commented on their relationship.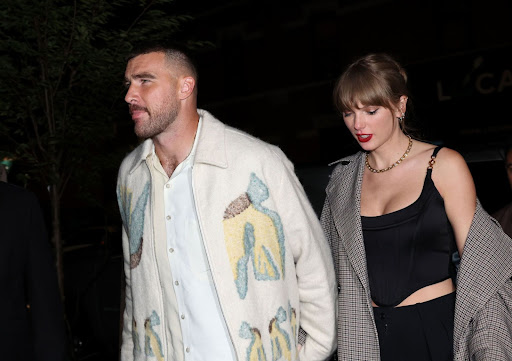 According to 11th grader, Bella Bunce she states " Oh they're totally dating, they're super cute. I've been tired of the British guys she dates this one is good. The NFL is going overboard with the Taylor Swift thing. They're definitely gaining more female fans but I don't think they're gaining popularity. It's making travis more well known over the NFL." 
Travis Kelce set the record straight with his interaction the Taylor Swift's security. Kelce said on the New Heights Podcast "I feel like whenever I'm on a date, I'm always having the sense that I'm the man in the situation, I'm like protective," Travis said. "You always kind of have that feeling or self-awareness I guess." He took Swift from the car to their different destinations.