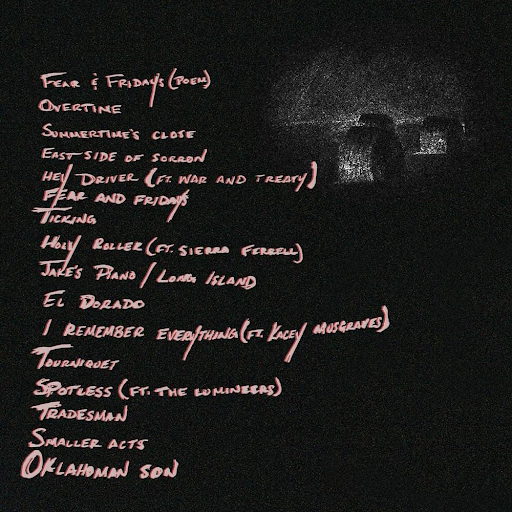 On August 25, 2023, Zach Bryan released his new album called "Fear and Friday's". The album has a total of 16 songs and is 54 minutes long. The genre is country and the album has been trending since its release. 
Zach Lane Bryan was born on April 2, 1996, which makes him 27 years old. He grew up in Oogla, Oklahoma with his mom, Annette, father, Dewayne, and his sister Mackenzie. Zach started making music in 2011. He released his first EP called "Coyote". He then gained attention and fans, and later in 2016 he released his first song called "Sunday Flannel". Zach Bryan also served in the Navy for eight years and was an active member when he signed his breakthrough contract with Warner Records in 2021. "Heading South" is the song that got Bryan popular. On August 19, 2019, he released his first album called "DeAnn" named after his late mom. 
Zach Bryan's new album called "Fear and Friday's" is about how he is revealing himself as a lover and a fighter, a brave man and a coward, a small-town boy and a national sensation. He is saying that with all the good he portrays he is not perfect and still has a story to tell. 
One of his songs, also my favorite one, called 'Tourniquet "describes taking care of a loved one. He uses a tourniquet (a medical tool to stop bleeding) as an object to portray himself. The girl in the song is metaphorically bleeding and with his care, he will stop her pain, there is also a voicemail playing in the back of the song which is said to be his late mom's last voicemail to him, the girl being talked about may be his mom. Another popular song on the album is "I Remember Everything" which also features Kacey Musgraves. This song is about two past lovers talking to each other and how they both remember everything about the feeling of the love they had for one another. 
Most of the opinions of the album are very positive. The album was #1 trending for a while and people are still posting pictures and videos with the songs. However, when the Scroll was asking Saugus sophomore Payton Schanks she said " I think all of the songs are annoying and I just don't like his music in general".  But when asking Arroyo Seco student Jace Lindstrom he said " I love the new album, my favorite song is Tourniquet or Hey Driver". In my opinion, I think this album is amazing. The stories behind all the songs are deep and all have special meaning. Tourniquet is my personal favorite song on the album. I love the story behind it and just the way it sounds in general. 
Zach Bryan does not create music all alone though. He has his own band that he brings along with him while on tour. The band includes; Graham Bright, Noah Le Gros, JR Carroll, Lucas Ruge-Jones, Read Connolly, Steve Clark, and Zephyr Avalon. He and the band are going on tour in 2024 and it's called "The Quittin Time Tour". 
As I said before, " Tourniquet" is one of my favorite songs. I love the story behind it and also I love the beat and the way it sounds. I listen to this almost every day and know all the lyrics. Another one of my favorite songs on the album is "Summertime's Close". This song is another romantic song, he's talking about a woman he loves and compares her to stars. He also says how his last bit of hope in the world was her. At the end of the song, he reveals that it is now over and is dwelling on the past. Most of Bryan's songs are usually about past relationships or loved ones that he has lost. He also always says how all his songs have meaning to him and are written to tell about things that have happened throughout his life. All in all, Zach Lane Bryan has risen to fame and will continue to do so.