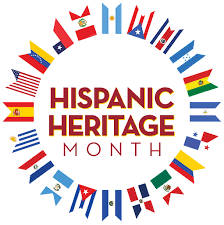 Hispanic Heritage Month occurs Friday, September 15, through Sunday, October 15,( 30 days). It started on this day because El Salvador, Costa Rica, Honduras, Guatemala, and Nicaragua all stated their independence. They celebrate their freedom because they broke free from European rule. It was first celebrated in 1968 under President Lyndon Johnson, then on August 17, 1988, President Regan expanded it. 
             It's important to celebrate Hispanic Heritage Month to recognize the many contributions Latinos and Latinas bring to our country. According to Population U, Santa Clarita's population is currently made up of 73,777, or 34.6% of Hispanics and Latinos. Because of this large percentage, there is a big influence in Santa clarita. One of the ways we can celebrate Hispanic Heritage Month is by taking time to appreciate the contributions Latinos have brought to our city. One of my favorite contributions is the types of foods influenced by Hispanic culture. Let's take a closer look at some of the delicious dishes and snacks that we get to enjoy.           
 Some famous snacks everyone loves are takis, Pelon Pelo Rico, and fruit with tajin. Takis originated in Mexico in 1999 and were introduced to the US in 2004. They quickly gained popularity among teens for their spiciness. 32 deliciously spicy flavors will leave your taste buds on fire, but thrilled. If you look around Saugus High's campus, you will easily spot someone eating a bag of Takis.
 Another beloved snack is Pelon Pelo Rico. The flavors it comes in are regular, sour lime, watermelon, and extra spicy. Sophomore, Daniel Henson says, "The extra spicy one is my favorite because it is both hot and sour". Pelon pelo rico in English translates to "Yummy Hair Baldie".  This makes sense because you eat this treat by pressing the little white handle which pushes out the candy through little holes, making it look like hair. 
One other snack that you would find in both Mexico and Santa clarita is freshly sliced fruit and seasoning. Street vendors often serve this treat. They start with a cup of watermelon, cantaloupe, cucumber, pineapple, mango, and more. You can then add a seasoning. Tajin is optional, but a very popular choice. It's a tasty mix of sweet and spicy and is sprinkled on top. Chinmoy is another popular topping that adds a sour punch. This snack is sold for around $5-$10.
One of my favorite snacks influenced by Latinos is the churro. This tasty snack is a long piece of dough that is fried and then dipped in a cinnamon and sugar mixture. It is usually served hot and can be enjoyed by itself or with toppings such as chocolate sauce or ice cream. One other way you can eat a churro is with a filling inside such as sweet cream, chocolate, or Nutella. Churros can be found at local Mexican restaurants or even at your local Vallarta supermarket.
After snacking on any of these yummy treats, what better way to quench your thirst than with an agua fresca drink? Agua fresca is a fruity drink mixed with water and sugar and can be found in many flavors such as watermelon (my personal favorite), pineapple, passion fruit, and mango. When attending a Saugus High football game, you will likely find a stand or food truck selling this delicious fruity beverage. For about $8 you can get your very own agua fresca drink.
As you can see, Hispanic culture has influenced many of our favorite snacks and treats that everyone eats today. One way we can celebrate Hispanic Heritage Month is by recognizing and appreciating that these snacks originated in Latin countries and have been brought here for our enjoyment. So, don't take my word for it, if you haven't tried any of these delicious snacks and treats, go out and try one for yourself. While enjoying it take time to appreciate the fact that this snack is based on Hispanic culture.