In past years wildfires have burned many acres of land and left many families devastated. In the USA, fire season is usually from July to October when the weather is hot and the atmosphere is dry. So far in 2023 there have been around 43,899 fires which have burned 2.33M acres. With the year not over yet the amount of fires are expected to slow in November and December because of snowfall and cold weather. Fires have been a problem for a long time in the US and that hasn't seemed to change this year.
Wildfires in the United States peak in the summer months with August being the month with the highest fire rate. This is likely due to the hot weather which causes brush to become dry and easily flammable. The most common cause of wildfires are humans who leave their campgrounds unattended, throw a cigarette on the ground, or leave burning debris. This is a fact that shows that if wildfires ever want to be stopped then people will need to learn how to take care of the planet to keep their homes intact and the environment a safe place. When fires have already been ignited and have spread quite a lot, fire departments will drop red dust called PHOS-CHEK. This is a fire resistance powder that's main job is to stop the spread of flames.
Many people have had their homes destroyed from fires, but there are many ways to ensure that this can not happen. There are quite a few ways to prevent these fires from getting out of control, but some of the most important and effective ways are to never leave the kitchen while using the stove or any other tool that uses flames, always keep a fire extinguisher or a fire blanket near, and inspect all heating sources. Leaving the kitchen while a flame is lit is extremely dangerous because the flames will continue to grow and can catch on the surrounding areas like drawers and cabinets that will spread throughout the house. Keeping a fire extinguisher or fire blanket can be very helpful in situations like these because it puts out the fire quickly. Inspecting heating sources is also a great way to keep fires out of your home. This is because things like heaters can catch fires if they are placed near clothes or other flammable materials.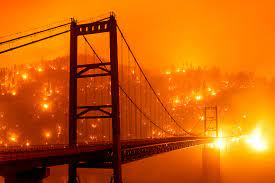 (Photo from: Politico)
2023 is expected to have an average amount of fires in the US. This can be determined based on expected weather and fire seasons from previous years. Last year, 7,534,403 acres were burned in the country. So far, 2023 has had around 2,330,000 acres burned which is far below the usual amount of acres burned per year. This could be due to the fact that the year is not over, or the amount of fires may have just decreased. In the US the area in which fires are most prominent is California. California has already had 5,741 fires which have burnt through 305,847 acres. Saugus High School Junior, Nathan Griffiths has claimed, "Sometimes in the summer, I can see smoke from my window." This shows just how big the problem of wildfires is in this state and how much of a difference it would make to join the help to prevent the spread of fires.