As the fall and Halloween season has come this year, so has the massively popular Horror Nights at Universal Studios. This event has been happening for over 32 years. It began in Florida as a three-night experience with only one maze, and ticket prices of 12.95. This event has definitely come a long way! It's featured in Florida, California, Japan and Singapore however, this article will focus on the event in Hollywood, California. This event is taking place from September 7th to October 31st. The tickets range from about $77 – $439, depending on the option you choose. These options include: general admission, express, early access, tours and multiple days access. Last year over 8.4 million tickets were sold. This year has a really exciting and perfect lineup they started on October 31st, when they announced Chucky: Ultimate Kill Count. Fans of the event are extremely ready to see what thrills and frights this year has in store!  
MAZES
Stranger Things 4 (Lower Lot) :
Netflix's extremely popular series Stranger Things released on the streaming service in 2016.  The story takes place in the 1980's when a boy vanishes in a town called Hawkins. As his friends look for him they discover a mysterious girl, a bunch of secrets, and monsters called Demogorgons. The show has four seasons where many storylines have evolved. Universal had the show's early seasons featured in mazes in 2018 and 2019, so this will be the third year! Season 4 has definitely been the scariest and most shocking season yet. This maze will feature the newest sets and scary characters introduced like: Demobats, Vecna, and the Mind Flayer! There are also some awesome themed food places just like the show including Surfer Boy Pizza and Scoops Ahoy Ice Cream parlor. If you are a big Stranger Things fan, you must attend this!
The Exorcist: Believer (Lower Lot) :
On October 6th 2023, Blumhouse and Morgan Creek Entertainment are releasing a new Exorcist movie after a 18 year hiatus. This will be the sixth movie in the terrifying and loved franchise that began in 1973. The movie consists of a single father confronting evil that is possessing his daughter Angela and her friend Katherine, with the help of someone who has witnessed something like that before. After severely attempts to cure the girls, it was proven they needed an exorcism in order to save their souls. This maze will transport guests into this frightening set making them feel like one of the characters. Be aware of hidden monsters who will catch you off guard when least expected. They'll be at every corner, waiting for the perfect time to give you the biggest scream.
The Last of Us (Lower Lot) :
Naughty Boy and Playstation's award winning video game will be featured at Horror Nights as well. In January 2023, a series based on The Last Of Us video game was released and became extremely loved by fans of the game and many others. The Last of Us is about Joel and Ellie who connect during a huge epidemic infecting those everywhere. A huge disease outbreak occurs and once infected causes people to become zombie-like creatures called "The Infected". A girl named Ellie was attacked by an infected, but is shockingly immune to the disease. Joel helps take her to medical professionals to see if she can help create a cure. This duo goes from not being able to stand each other to really having a strong father-daughter like bond. The maze will take guests through an obstacle course in a world taken over by this fungal virus. Guests will go through the iconic sets of the game/show as they try to escape the petrifying "Infected".
Chucky: Ultimate Kill Count (Curious George Lot) :
The wildly popular horror-comedy movie and series franchise featuring serial killer doll Chucky is coming to Universal as well. The original film was released in 1988 and since then there has been much more Chucky content. This maze stars the doll and he supposedly feels disrespected by the fact that he hasn't been taken seriously. As a result he turns his haunted house into a living slaughterhouse, murdering all those who dare to enter. This large house with two different halves will feature all the beloved aspects of the franchise.
Universal Monsters: Unmasked (Curious George Lot) :
This house is all about these classic and well known monsters featured in Universal productions  including: Dr. Jekyll, Mr. Hyde, the Phantom of the Opera, the Hunchback of Notre Dame and the Invisible Man. It takes place in burial grounds 60 feet under the Catacombs of Paris, where every inch is filled with skeletal remains and nasty secrets. The famous universal monsters are counting down the time until they can attack, and seek vengeance on the guests since the catacombs have been opened to public visitation. Visitors must navigate and explore their twisted and warped unground home.
Evil Dead Rise (Upper Lot) :
Evil Dead Rise is a horror film that was released early this year in April. It is the fifth film in the franchise that also became a television show. The story consists of a "Book of the Dead" causing an ancient curse to arise in an LA apartment. Guests will enter this apartment and discover many realistic rooms and dark hallways where many attacks and screams will occur. Visitors will have unimaginable horrors released on them and leave the house feeling extremely frightened. 
Holidayz in Hell (Lower Lot) :
This house is pretty much exactly what it sounds like all of your favorite and fun holidays have gone to hell. Scares and screams are throughout every holiday, not just Halloween this time! This maze features all holidays throughout the year including New Years, Valentines, Saint Patricks, Easter, Independence Day, Thanksgiving and Christmas. This maze seems really fun for visitors seeing a twist on every holiday!
Monstrous: The Monsters of Latin America (Upper Lot)
In this house you must escape three petrifying latin american folklore legends including: bone-tearing El Silbón, blood-sucking Tlahuelpuchi, as well as the owl faced witch La Lechuza. The maze is guided by Muerte who is a character similar to the Grim Reaper. There are many scenes and sets throughout the maze as well as plenty of scares for all visitors. People who have grown up with these horrifying tales will be able to see all their nightmares in real life.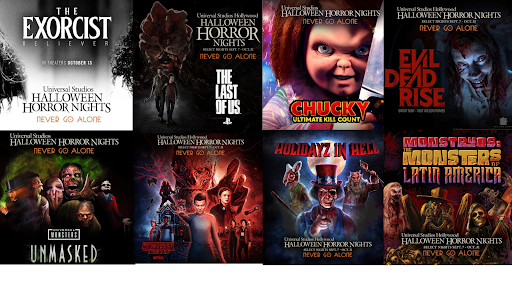 Photos by Universal, Collage by Milakale Kember
OTHER ATTRACTIONS
Terror Tram:
The Terror Tram is at Horror Nights every year with a different theme. The theme this year is The Exterminatorz! The Exterminatorz features a bunch of bug headed exterminators that are attempting to take over human guests. The tour is guided by Larry Larva. Guests also get out of the tram and walk through Jordan Peele's 2022 horror and sci-fi film "Nope" set, as well as characters from his 2019 movie "Us." There is also an alley that guests walkthrough which has a ton of spider webs and webbed victims, the spiders attack guests.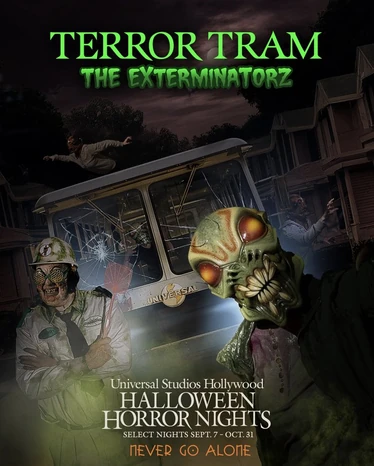 Photo by Universal 
Shows:
Horror Nights is featuring two awesome shows including,  Blumhouse: Behind the Screams and The Purge: Dangerous Waters. Blumhouse: Behind the Screams showcases Blumhouse's iconic and amazing horror movies including Five Nights at Freddy's, The Exorcist: Believer, Black Phone and M3GAN. This experience invited fans and lovers of these films to explore the behind the scenes as well as encounter some of these great characters. The Purge: Dangerous Waters features a politician trying to escape The Purge. The Purgers end up finding him and igniting an EDM show. There is a bunch of major action including stunts, effects and crazy explosions. These shows will surely entertain guests during their visit!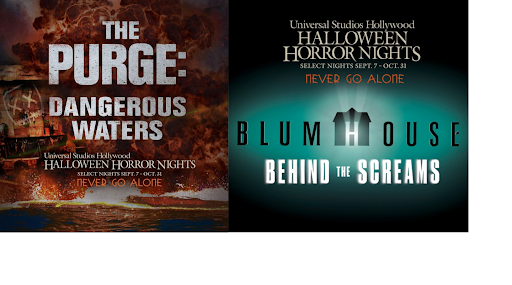 Photos by Universal, Collage by Milakale Kember
Scare Zones:
Horror Nights also has three different scare zones including Toyz, Ghostz, and El Terror de las Momias. The Toyz scarezone by New York Street is being brought back from 2012! It includes a bunch of evil toys to life including teddy bears, porcelain dolls, nutcrackers, ballerinas and more! The Ghostz is right by the entrance and the front gate. This scarezone features loads of blood drenched ghosts with chainsaws and huge smiles on their faces! The final scare zone, El Terror de las Momias, is located in French Street outside the Persian Courtyard and an extension of the Monstrous: The Monsters of Latin America maze. This zone includes a bunch of mummies similar to the ones from the 50's Mexican Horror movies. All of these creative zones will enhance the experience for the guest while roaming the park.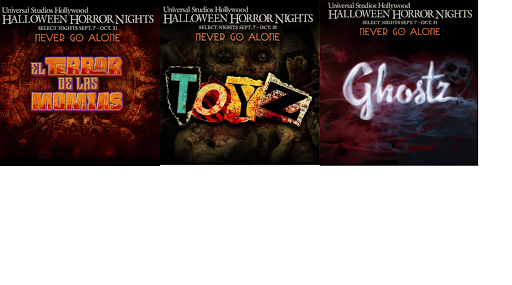 Photos by Universal, Collage by Milakale Kember
Rides:
Universal's famous ride attractions will also be open for guests to enjoy in between the horror! These rides include: Jurassic World, Revenge of the Mummy, Transformers, Harry Potter and the Forbidden Journey, Flight of Hippogriff, The Simpsons, The Secret Life of Pets, and Mario Kart.
As you can tell, this event is LOADED with tons of fun activities, screams and jumpscares to enjoy. Students around campus have been loving this event as well. Saugus Freshman, Jared Diaz, explained "I had a great experience at Halloween Horror Nights! I went with a few of my friends and out of the 6 mazes I did my favorite was probably The Last of Us because of how thrilling it was. I will definitely continue to go every year!" Freshman Student, Hugo Acevedo says "My experience at Horror Nights was a 10/10. It was my first night ever attending. It was an absolute blast, with mazes and other fun activities to do. Kinda scary though, but it makes it more fun." Saugus Freshman, Chloe Donoyan said "My favorite maze was the Holidayz in Hell. I loved seeing scary versions of all the holidays. I also had express when I went which I think is really worth it because I was able to go on everything." Halloween Horror Nights at Universal Studios has something for everyone to enjoy and is truly such an unforgettable experience.