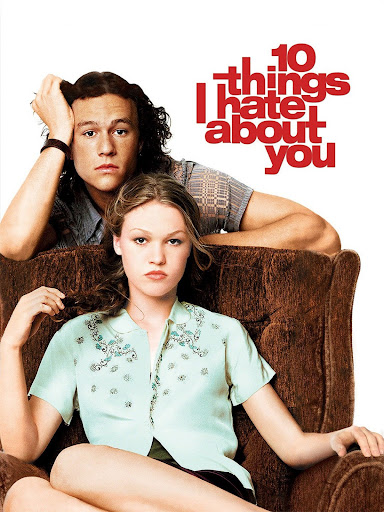 "10 Things I Hate About You" is based on Shakespeare's "The Taming Of The Shrew". The film is about a highschool boy named Cameron James, he wants to date Bianca Stratford but she can not date until her older sister, Kat, who is also anti-social and standoffish dates. Cameron pays an odd, mysterious boy, Patrick, to try and date Kat. At first, Kat has no interest but with time she falls for Patrick. She later finds out at prom that Patrick was being paid to take out Kat. But Patrick won her back by buying her a guitar because she loves rock music and has an interest in starting a band. After all of this Cameron finally gets to date the girl he learned French for, Bianca.
"10 Things I Hate About You" has a 4.7 star review, with a Rotten Tomato review of 71%. One audience review from outsider Prachi Karambelkar has 4 stars and says "My all time favorite film. 10 Things I Hate About You is that perfect teen rom-com that everybody would like to watch. The film has humorous plot and fantastic acting performances by the entire cast, especially Heath Ledger and Julia Stiles." However, another review from an outsider, google source, Fariha Ahmed has 1 star and says "This movie is misogyny disguised as romance. It paints an opinionated woman as undesirable and shows guys betting to make a girl go out with them. I watched it to see what the hype was and I'd say it was not worth my time." 10 Things I Hate About You is based on The Taming of the Shrew, a Shakespeare play. Both of these are about a boy who wants to date a sister but cannot until the older one decides to. Some people may think both the movie and play are misogynistic because they believe it is sexist and romanticizes toxicity and creates stereotypes. Andrew Keegan's character "Joey" was well known for how he talked and treated women.
When The Scroll asked Saugus Junior Grace Boon, she said "I like the movie, I feel like it is iconic. I think it's a really good movie, it was definitely one of my favorite movies when I was younger." Although when The Scroll asked Andrew Cordero, he said "The movie's alright, I've watched it once and was forced so probably wouldn't watch it again. It was also boring and I fell asleep during it." But when The Scroll asked Abigail Mosshammer, she said "I absolutely love 10 Things I Hate About You. It is so good and I love Cameron."
In my opinion, "10 Things I Hate About You" has to be one of the best Rom-coms. My favorite love trope is enemies to lovers and this movie is exactly that. I watch it anytime I am sad or just don't know what else to watch, it's my go to movie. I love Cameron. He is my favorite character. He's not only cute but he also is so respectful and would do anything just to be with Bianca which I love and it also heightened my standards. Everybody needs a Cameron. I also love how Kat doesn't settle easily and how tough she is, it's influencing other girls and so many people.
The cast includes Julia Stiles as Kat, Heath Ledger as Pat, Joseph Gordon-Levitt as Cameron, Larisa Oleynik as Bianca, David Krumholtz as Michael, and Andrew Keegan as Joey. 10 Things I Hate About You was most of the young actors' first big roles. The movie was released March 31,1999. The film was filmed in Tacoma, Washington, where the now famous Stadium High School is located. It was also rumored that Heath Ledger and Julia Stiles had a behind the scenes romance. Back when the movie was first released people thought it was so romantic on how much the boys liked the girls, but now with a newer and younger audience people think it is gross how they all talk about girls in the movie. With all of this 10 Things I Hate About You has made a huge return and is still one of the most popular Rom-Coms out there.