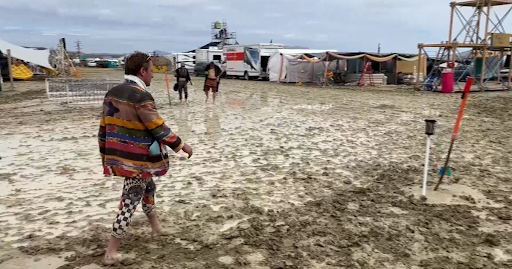 Burning Man is a music festival in the Black Rock Desert in Nevada where several artists go to perform. The event goes for a post-apocalyptic aesthetic which is why they meet in the middle of a dessert. However, this year being in the desert proved to be more of an inconvenience than a cool place to have a music festival when it started raining a day or two into the festival.
Because of this, the people who were in attendance at the festival were stuck since the mud was only possible to drive in if you had a 4-wheel drive. Also, it was extremely hard to walk around since the water plus the desert sand would just add a new heavier layer onto people's shoes making it hard to traverse the area So the 'Burners' as they're called (People who attend Burning Man) had to conserve food and water. Others tried not to go to the port-a-potties as the service trucks couldn't reach the grounds due to the mud so they quickly started to fill up. However in the storms and the festivities being kind of ruined due to the massive amount of mud everywhere people still managed to have fun. Like  Matthew Hutson of the New York Times, he was with people enjoying the day. "Eventually, most of us gathered in one large R.V. for the evening…We drank, snacked, and laughed until bedtime."  
However, with all the people stuck with nowhere to go some were celebrating. Burning Man has been criticized for years now, mostly by climate change activists. Since many people who attend the event are wealthy or are social media influencers that were paid to be there, people protest for them to reduce their carbon footprint by using less plastics, etc. So some hope that the disaster that these wealthy individuals faced will result in them not attending anymore or getting some sort of reality check. On the other hand, the wealthy people who go to and donate to Burning Man help fund art and make the experience better for those who attend. 
Regardless of what you think of the festival,  whether you love it or hate it, Burning Man this year got flooded and the attendees were stuck for a few days. Most likely going to rerun next year for more.