On July 21st, both hit movies Barbie and Oppenheimer were released to the theaters! The cultural phenomenon,"Barbenheimer',' was created through social media. Directed by Greta Gerwig, the fantasy comedy movie Barbie was based on Mattel's Barbie fashion dolls. On the other hand, the biographical thriller film, Oppenheimer directed by Christopher Nolan, takes us through the life of Oppenheimer and the creation of the atomic bomb. The populated cast definitely led to the skyrocketing sales. Although these movies have nothing in common, many people watched both on the same day.
The Barbenheimer internet phenomenon began with many people arguing about which film is going to be better, what order to watch them in, and how you should plan your day. Even Tom Cruise, whose movie Mission: Impossible opened a week before, said he was planning on seeing both on their opening day. Starting with Oppenheimer and ending with Barbie. Many people of the Barbenhiemer fandom also agreed with this. Many trends involving these movies made them more popular such as dressing up for the movies. Girls dressed up like Barbie, couples cosplayed as Barbie and Ken, and many boys dressed like Oppenheimer. This started a Tik Tok trend of people showing off their movie day outfits. This simultaneous same date release also created internet arguments about how they are so different and there are no similarities. This led to people to find the similarities of the theme of existentialism, the oscar-nominated directors and writers, and they're both distributed by Universal Pictures.
"Barbenheimer" has brought out many issues as well. There have been repeated reports of drunken outbursts, excessive cell phone use, and outright disruptive behavior. Many people reported that people were scrolling through social media with loud volume, taking videos with the flash on, and screaming at the screens. Although people are unsure why the Barbenheimer trend has brought out this controversial issue within the movie theaters. Understanding that many people are excited about both movies, it led to many people violating common behavior rules in the theater.
Saugus student, Madelyn Yurek, had an opposite experience of what he had reported. "I loved every part of the movie, and the experience. Luckily for me, everyone was very respectful and no one was really out of line on their phones," Madelyn shared with us.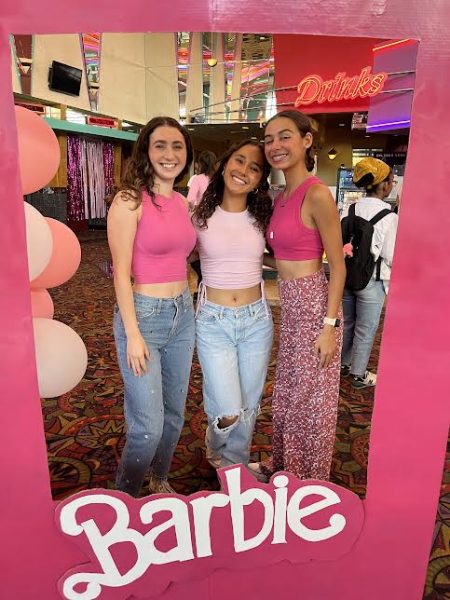 Some Saugus students also shared which movie they enjoyed the most. Senior, Laney Giordono shared, "I personally enjoyed Barbie more because it brought me back to my childhood, and I feel like I could relate to it more." While senior Daniel Sandino disagreed, "I loved Oppenheimer because I think it was very informational but also shared it in an entertaining and interesting way". 
Barbenheimer has ruled the box office since it was released in many countries. Warner Bros Barbie especially, showed no signs of ticket sales slowing down anytime soon within the first weeks of its release. Starring actors in Barbie, Margo Robbie and Ryan Gosling, sparked people's interest in seeing the movie, even though they were unfamiliar with Barbie. Margo Robbie is a fan favorite due to past movies like Wolf of Wall Street and Suicide Squad. The Oscar winning cast definitely was one of the reasons to the skyrocketing sales. Main character Oppenheimer ,played by Cillian Murphy, earned a 93% on the tomatometer on Rotten Tomatoes. Supporting actors in the film, such as Rami Malek, Matt Damon, and Robert Downey Jr. brought in many fans of them to the movie. As of right now, Barbie surpassed Oppenheimer and is the highest-grossing movie in the box office with more than $1.286B in the US. Oppenheimer is so far the fourth-grossing movie and grossed over $1.342B worldwide. These blockbuster films have grossed over  2 billion dollars together, and have become the hit double feature.