Our local Los Angeles Dodgers started a win streak against division rivals, The San Diego Padres, on August 6, 2023. Led by Lance Lynn, a recent addition to the team acquired in early July, the Dodgers pulled off an 8-2 victory against the Padres to begin their win streak. 
The Dodgers won 11 straight games, coming close to the franchise record of 15 straight wins. The record was set in 1924 when the team played in Brooklyn, and were not even called the Dodgers. In the early years of baseball, the Brooklyn Robins tallied fifteen straight wins, and over almost 100 years, 3 different home fields, switching cities, and a name change, the franchise record still stands. The record in Los Angeles is 13 games, with two occurrences happening, in 1962 and in 1965, both led by hall of fame pitcher Sandy Koufax.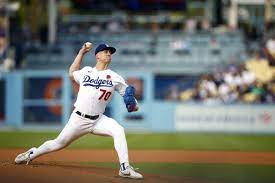 Photo Courtesy of https://www.latimes.com/sports/dodgers/story/2023-05-29/bobby-miller-dodgers-washington-nationals-mlb-recap
While a win streak that long seems very improbable, the Dodgers have put together a very good team that is providing fans with very exciting games. During this win streak, in a game against the Padres, The Dodgers pulled off a comeback victory after being down 5 runs in the 3rd inning, the Dodgers rallied back and scored 8 in the fourth, most notably with a Mookie Betts grand slam to put the Dodgers ahead. Rookie pitcher, Bobby Miller, has been putting on a legendary performance. Miller went 6 scoreless innings against the Arizona Diamondbacks on August 9th, leading the team to their fourth consecutive win. LA Dodgers starter, Lance Lynn, has also been on fire. Not only did he start the Dodgers off on this win streak, but he also pitched 7 shutout innings against the Milwaukee Brewers which resulted in a 1-0 victory to extend the streak to 11 games. The Offense has also been doing a great job, some of the Dodgers hottest hitters include; Mookie Betts, Enrique (Keke) Hernandez, Jason Heyward, and J.D. Martinez.
Unfortunately the Dodgers loss against the Miami Marlins on August 18th ended their win streak at 11. Dodgers' Manager Dave Roberts commented on the winning streak, "'For the regular season, I'm really proud of our guys. To go through what we went through and win a lot of ball games."' While the team fell short this time, we can hope that with the powerful team the franchise has put together and the elite farm system for upcoming superstars, The Los Angeles Dodgers can make another run in the near future.