Idaho Murder Suspect Faces Court Date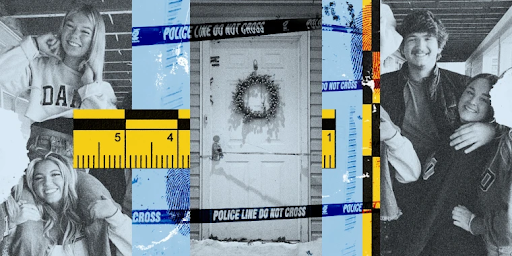 On November 13, 2022, four roommates were murdered in their home in the quiet town of Moscow, Idaho. In December, Bryan Kohberger, was arrested as the main suspect for the murder. The case affidavit presents a full timeline of the murders and the killers' almost two month long evasion of capture, up until his January 12 court hearing. 
Just before 2 A.M on the night of November 13, the four roommates came home from a night out in pairs of two. First, victims Ethan Chapin and Xana Kernodle entered, followed shortly by victims Madison Mogen and Kaylee Goncalves. Surviving roomate, known in the court documents only as "D.M" reports hearing Kernodle awake at around 4:04 A.M. D.M also reports hearing crying from Kernodle's room followed by a man saying something similar to "it's ok, I'm going to help you." 
While the roommates were in the house, footage of the street showed a white Hyundai Elantra circling the house four times, beginning around 3:30 A.M. D.M reports opening her door to see someone with bushy eyebrows, wearing black clothes and a mask covering his mouth and nose walk past her towards a sliding-glass door in the home before D.M shuts her door and locks it. 
Police did not arrive in the home until noon responding to a call of an unconscious person. They found the four victims in two different rooms, stabbed to death. On November 16, Chief James Fry said, " We cannot say there is no threat to the community." 
While the community and the world watched closely in fear, 28 year old Brian Kohberger travelled from Idaho to his family home in Pennsylvania. Police had narrowed down the search after idenitfying Kohberger's white Hundayi Elantra in the parking lot of Washington State University, where he was currently attending school. 
Before Kohberger's arrest, a survellience team monitored the suspect waiting for a DNA sample police could use to compare to DNA found at the crime scene. While monitoring the Kohberger family's Pennsylvania home, the team witnessed him cleaning his car wearing surgical gloves multiple times. Authorities finally obtained DNA from the home and matched it to DNA on a knife sheath found in the home. On December 30, Kohberger was arrested and held without bond until he was extradited back to Idaho on January 4. 
Originally, the perpetrator's probable cause hearing was set to be held June 26, but he waived his right to a speedy trial, and it was rescheduled to January 12. Kohberger reportedly appeared at this trial with multiple large cuts on his face, and spoke only four words during the trial. 
In the aftermath of the murders, two scholarship funds have been created in the victims honor. The Kernodle family created the Xana Kernodle Scholarship Endowment, vowing to match dollar for dollar contributions up to $10,000. Also created was the Sigma Chi Foundation's Ethan Chapin Memorial Scholarship Fund. A family member of Xana Kernodle asked that the public "think about our family and all the other families involved. Find ways to support them as well…We must continue to remember the ones we lost. We have a long road ahead of us."
For the time being, court orders prohibit the defense or prosecution from sharing anything other than what must be recorded. Whether Kohberger is guilty of the four counts of first degree murder and one count of felony robbery is yet to be seen, but one can only hope justice is brought to the victims and their families.