Top 5 Pies for Pie Season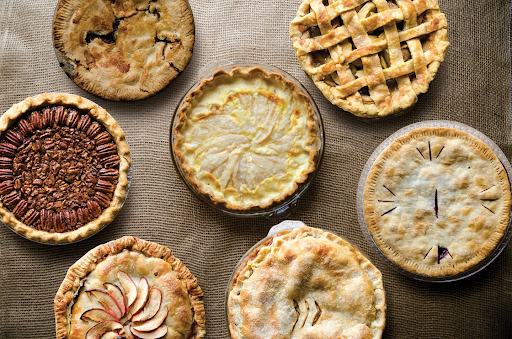 The history of the pie has its roots in ancient Egypt and Greece. The ancient Greeks ate pie, but there's was savory with an open shell. The Romans however were the first to make pie with top and bottom crust. Now, pie is enjoyed worldwide and has an infinite number of flavors.
Pumpkin pie is a dessert typically eaten around fall time.  It has a spiced pumpkin based custard filling. The pumpkin and pumpkin pie are symbols of harvest time. The dish also tastes great with whipped cream. 
In general apple pie is double-crusted, with pastry both above and below the filling. Dutch/ french apple pie is apple pie but instead of covering the spiced apple filling with a layer of crust, you sprinkle it with a tantalizing brown sugar crumb. It is eaten year round and goes well with vanilla ice cream. Freshman Evelyna Barajas says "Apple pie is delicious and most definitely my favorite out of the 5 pies. Especially when it's warm, lord have mercy."
Dutch/ french apple pie recipe
Blueberry pie is a pie with blueberry filling. It is easy to make since it does not require you to peel any fruit. It is baked with a top and bottom crust and the top crust can be used to make different patterns. Blueberry pie is enjoyed year round and tastes great with vanilla ice cream. 
Lemon meringue pie is a single crusted pie with a creamy lemon custard filling. On top of the pie is a soft fluffy meringue that melts in your mouth. Although this pie is more difficult to make, it is worth it in the end. Lemon meringue pie is enjoyed year round and tastes amazing by itself. 
Coconut cream pie is a single crust pie with a thick and creamy coconut filling with a mound of thick puffy whip cream on top. Overall it is pretty easy to make and goes good after any meal. This pie is enjoyed year round and tastes delicious by itself. 
Pies are enjoyed every day and all around the world. Pies bring different kinds of people together and start up conversations. All in all, pie is delicious and easy to make, so why wait, try a recipe!