Balenciaga Scandal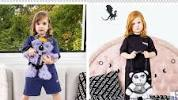 Luxury fashion brand, Balenciaga is well known for their unique product releases.  From designer potato-chip bags to croc-heels, the brand's reputation seems to precede them.  However, after Balenciaga's latest release and removal of their holiday campaign, which featured children modeling with bears dressed in bondage gear, the brand has come under fire for their highly questionable promotions and actions.  
In their most recent holiday ad campaign, Balenciaga featured a "punk" inspired collection.  The promotions showed children holding bear shaped bags accessoried in bondage gear, allegedly promoting the normalization and general idea of BDSM.  Balenciaga later released statements apologizing, debunking this idea, and removing the campaign/products from their website.  For those who do not know what Bondage and Discipline, Dominance and Submission, Sadochism and Masochism or BDSM, it is the act where one or two people engage in sexual abuse acts often involving tape, chains, restraint straps, whips, and any other object that can be used for beating. In the photoshoot, two little girls are holding teddy bears that appear to have straps and chains wrapped around their limbs and torsos. Restraint straps are normally wrapped around the wrists, ankles, and even sometimes the torso which almost matches the position of the straps wrapped around the bears. According to the production company of this campaign; however, their original intent for the accessories was to be a gothic or punk aesthetic, they did not mean to promote any child pornography or sexual abuse.  On November 29, 2022, the brand released a statement addressing both their Gift Collection and their anticipated 2023 Spring Collection, stating that "We strongly condemn child abuse; it was never our intent to include it in our narrative [..] We want to learn from our mistakes and identify ways we can contribute.  Balenciaga reiterates its sincere apologies for the offense we have caused and extends its apologies to talents and partners."  Along with this statement, Balenciaga issued a $25 million lawsuit against the production company and producers responsible for creating the BDSM advertisements.  In addition, Creative Director of the fashion house, Demna Gvasalia, later apologized in a post on Instagram.  However, in a surprising turn of events, on December 2, 2022 Cédric Charbit, president and CEO of Balenciaga released a statement about their future endeavors with the scandal.  Most notably, Balenciaga "decided not to pursue litigation", and instead "set aside a significant fund for grants to organizations so that we can help make a difference in protecting children."  They go on to describe the brand's "new control instances", "organization", plans to "learn and contribute", as well as their further apologies.  
[Interview #1]
Junior Sebastian Nino-Oviedo said "I think the images display BDSM accessories.  I think that [the advertisements] 100% support BDSM, and I think the production team should have taken a second look what they were going to promote"  He further commented that "I don't think its right for companies to use children in this manner because this kind of stuff promotes BDSM and children should not be exploited in order to sell products.  In this case with Balenciaga, it makes it even worse because of the BDSM bear with the straps and everything.  I don't know what to think, all I know is that it is wrong." When asked how the public should respond, he stated: "I can't speak for the public, I'm just one person, however I think that the public should be more aware of your own actions when you are making a purchase at a store you enjoy, because you don't know what you might be promoting with that purchase.  The people need to take action against completely wrong actions like this-especially with children involved."
Senior, Christain Bazen replies,"Most certainly a cover up [and] yes these were BDSM accessories. I felt very uncomfortable because they were children dealing basically toys that looks like sex toys. The public should be appalled that a company would market this to children. [ The company should] not market them to children and only adults and have adults in the promotional material."
This is not the first time a controversy like this has spiked before. Companies are responsible for dealing with these types of scandals and the public has the right to voice their opinions about it. Currently, no definite answers have been found in spite of this case and there is a possibility that there will only be theories and allegations.