The Beatles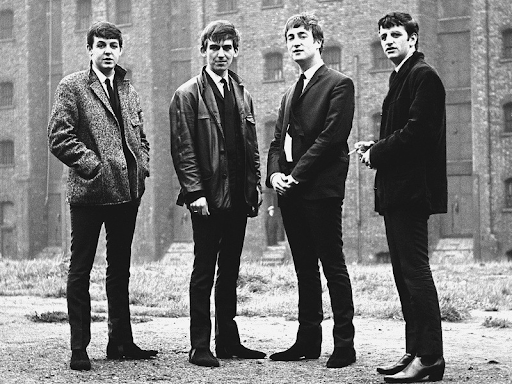 The year is 1964, and you're sitting in your living room getting ready to watch the new episode of The Ed Sullivan Show. As you're sitting there wondering who's going to be on next, The Fab Four make their presence known with their lineup starting with "All My Loving." The Fab Four, also known as The Beatles, made everyone fall in love with their hit single "I Wanna Hold Your Hand." The Beatles started out very different from the way they ended up. John Lennon (Born on October 9th, 1940) 1956 started a band with multiple school friends called "The Quarrymen." They played at parties, school events, and clubs. Paul McCartney (Born on June 18th, 1942) later joined the band and suggested a new member by the name of George Harrison (Born on February 25th, 1943) who was only 14 at the time. John suggested that George was too young, but George won him over after days and days of asking by performing an instrumental song called "Raunchy," on the upper deck of a Liverpool bus. Later, John, Paul, and George found their drummer Pete Best ( in August of 1960. After finding their drummer, they decided on the name "Silver Beatles," Later changed to "The Silver Beatles." After many gigs in multiple clubs, like The Cavern Club which is where they started getting popular, they decided their drummer Pete Best was not good enough and kicked him from the group. Later finding their permanent drummer, Ringo Starr (Born July 7th, 1940). Soon after this they then chose their final name, The Beatles. They struck a record deal with their producer George Martin, who some call the fifth Beatle, and were an instant hit in the UK. 
John's childhood was very troubled, his father left when he was very young and he was forced to live with his aunt and uncle because his mother wasn't responsible enough to take care of him. John's love of music came straight from his mother. When he used to go visit her she would always put on records and sing along with his son. John's mom taught him how to play the banjo and bought him his first guitar. Despite his mother supporting John's love of music, his aunt was very skeptical about the idea. Spawning the famous quote, "The guitar's all very well, John, but you'll never make a living out of it," which was said by his own aunt. Paul's childhood was much simpler. McCartney's first instrument was the trumpet, which is what his father played along with the piano. His mother died on October 31st, 1956 of an embolism. He continued his passion for music and was soon to become the most famous musician of his generation. Ringo as a child had many hospital visits, to say the least. Throughout his childhood, he contracted appendicitis, and peritonitis causing him to fall into a coma for a few days and multiple cases of tuberculosis. His inspiration for drumming was the song "Bedtime for Drums." George Harrison's was as simple as can be. He loved music more than anything and his mother and father were very, very supportive. His influencers included Elvis Presley, George Formby, and Hoagy Carmichael.
The Beatles slowly became more and more troubled as the years went by. Though the tensions were growing high between the band, their talents were better than ever. Their albums, The White Album, Abbey Road, and Revolver are considered masterpieces to this day. John Lennon was letting his mistress, Yoko Ono, in on recording sessions more often than the other members would have liked. John and Paul's inflating egos were also affecting the band. John's attitude towards the band, missing recording sessions and blowing off the other's opinions, led to the song "I Me Mine," recorded by George Harrison, on the band's last studio album "Let It Be." Lennon wasn't even present for the recording. On May 8th, 1969 McCartney refused to sign the deal for new management, leading to the end of The Beatles. Even though McCartney was the first one to announce his departure, Lennon was technically the first one to leave the band. All of the members had a wide range of success when coming to their solo careers. Lennon being the most popular, released multiple songs that would hit the billboard charts. On December 8th, 1980, John Lennon was murdered in front of his apartment by mentally insane fan Mark David Chapman. This death hit The Beatles hard, especially Paul McCartney, who saw Lennon as a brother. The Beatles' lives and careers continued until another untimely death occurred. George Harrison due to lung cancer. Lennon and Harrison live on as legends, inspiring many of today's artist's music. While McCartney and Starr are still alive, performing and improving people's lives daily.