Spotify 2022 Wrapped Up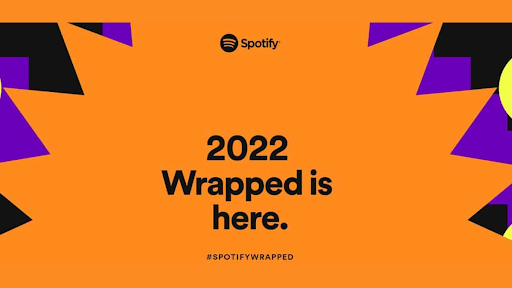 With the 2022 year coming to end, many upcoming, old, and classic artists are being recognized through the famous music streaming app Spotify. Each year Spotify releases each of their 182 million subscribers personal yearly wrap of all the music they have listened to that year. Last Wednesday, they revealed the wrapped. 
The most streamed artist for the third year in a row is the global recording artist Bad Bunny. As the first person to accomplish this, Spotify customized the like button to Bad Bunny's famous heart. His most recent album Un Verano Sin Ti is his fourth solo album, but his fifth album overall. It was released on May 6th, 2022 which led him to accomplishing his third year as the most streamed artist in the world on Spotify. He began releasing songs in 2013 and continued until he was discovered in 2016. Since then he's been consistently releasing music, keeping him popular on the charts and with the people.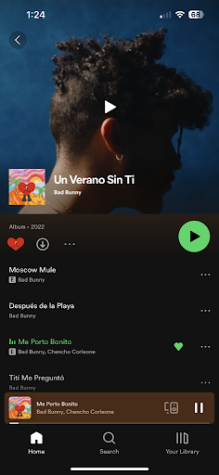 Coming in at the second most globally streamed is Taylor Swift. She's finally having her comeback and she lost no fans in the process. Her newest album Midnight released on October 21st, 2022, still skyrocketed her to second most streamed. Taylor Swift also earned the title of the most "viral" artist globally. Her music was the most shared to social media platforms through  spotify. Coming in at third most streamed, Drake took the spot. On November 4th, 2022 Drake and 21 Savage released the collaborative album Her Loss. Overall he had 71.6 million listeners in the year of 2022. 
Not surprisingly, the famous Harry Styles took first place in the most streamed song of 2022. Earlier this year on April 1st, Harry Styles dropped the song "As it Was", which stayed at the top of the charts for 15 weeks. British indie rock band's song "Heat Waves' ' came in second and Australian artist TheKidLaroi's hit "STAY" (with Justin Bieber), claimed the third spot on this chart. Most streamed artists Bad Bunny's "Me Porto Bonito" and "Tití Me Preguntó" took spots four and five, respectively. 
Some of our very own Saugus students share similar taste with the top hits. Junior Baylee Renfro's top artist was Drake. With the new album that just came she said "this is one of my favorite albums of his, I think 21 Savage and Drake collaborated very well together and I hope that they continue making music together. Another junior Maddie Yurek shared "my most streamed artist was J. Cole, and my most streamed song was Work Out also by J. Cole".  Spotify also allows you to share your entire wrapped to multiple social media platforms, so share yours with your friends!