Saugus Theatre Presents: Sherwood: The Adventure of Robin Hood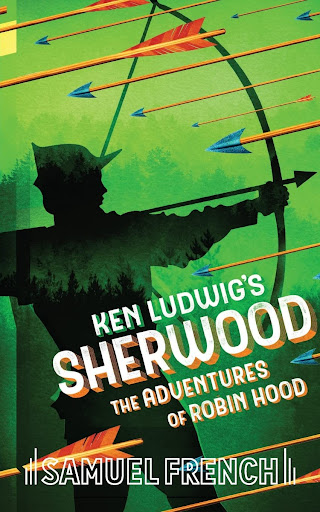 This fall, Saugus Theatre is presenting a twist on a childhood favorite, Sherwood: The Adventures of Robin Hood by Samuel French, a two hour thrilling comedy that is sure to amaze.  
While many may be familiar with the classic Disney movie Robinhood, Sherwood is an edgier, more historical twist on the tales of Sherwood forest.  This show is a hilarious comedy filled with action and drama, featuring themes of love, loss, friendship, war, and peace throughout Robin's adventures.  The thrilling comedy is an astonishing conflict between justice and order, as well as the struggle to find balance between them.  The story follows Robin of Locksley as he and his band of merry men fight against the tyranny of the abusive Sir Guy of Gisborne and Sheriff.  While the Scroll is not at liberty to reveal the plot or specifics of the show, this two hour play has all the potential to be fundamentally fantastic.  This show will have the audience on the edge of their seat, laughing, crying, laugh-crying, but overall inspired and more than pleased with the performance they just witnessed.
Saugus Theatre is notorious for their marvelous performances, and Sherwood is anticipated to be no different.  The cast have been working tirelessly on this show for months and are extremely excited to present their masterpiece. Sebastian Nino-Oviedo, who plays the Sheriff told the Scroll: "We have been working on this show for approximately two months or more.  The process has been very enjoyable to meet new people and to work with Tyler McCloy (Sir Guy) and my amazing double cast Ryan Alikhanian.  The process has been long and required a lot of hard work and effort and commitment both onstage and off […] I am most definitely excited for my family and friends as well as old friends I've met in productions past to see this show."
Katherine Eng, Scene Shop Manager and portrayal of the noble Friar Tuck said, "We have been working on this show since the beginning of the year.  It has been enjoyable, I love working with Saugus Theatre.  I have been in Saugus Theatre since freshman year, I'm currently a junior, and I'm glad this is where I get to spend my extra hours and my 6th and 7th period.  It's been fun, I've done a lot of background stuff as the Scene Shop Manager, but I'm also Friar Tuck so I've also gotten to be onstage and behindstage working and I've had a great time doing both".  When asked if she was excited for people to see Sherwood, Kate responded with "Absolutely! Come see Sherwood from November 16-19.  If you want to see me, I will perform the 17th and 18th, and my double-cast Katy Sutherland will be performing opening night November 16 and closing night November 19."
Sherwood: The Adventures of Robin Hood will premiere November 16 through the 19th at 7 PM in the Forum. Tickets are now available on GoFan.com and at the door.  Come support Saugus Theatre and see the spectacle that is Sherwood.
For more information about Sherwood and/or tickets, click the link(s) below:
https://www.instagram.com/p/Ckr7VJlrkpg/?igshid=MDJmNzVkMjY=
https://gofan.co/app/events/774288?schoolId=CA19037 
https://gofan.co/app/events/774289?schoolId=CA19037
https://gofan.co/app/events/774290?schoolId=CA19037