Best and Worst Football Themes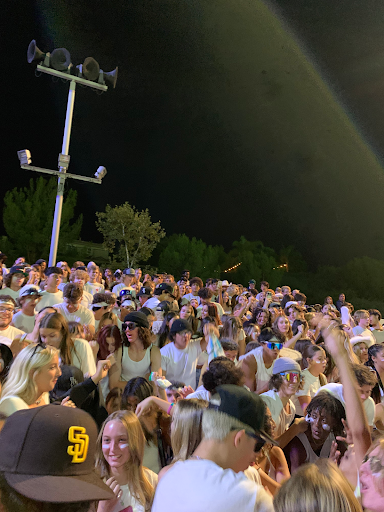 Our weekly football games get students extremely excited, but not only that, they look forward to the weekly themes. These themes help our school feel and look united and coordinated. It also gives our student section another reason to come join and support our football boys. However, some themes tend to be a fan favorite and others are quite controversial. 
To start, the white out and black out themes. This is very back and forth between Saugus students. Personally, I like these themes because they are very easy and receive a lot of participation. These themes bring more students to the games and make our student section more unified. Junior Baylee Renfro says, "my favorite theme is black out because it's my favorite color. Also everyone looks good in black so it's aesthetically pleasing when it's the theme."
Hawaiian, camouflage, and construction also occurs every season. Although they are cute, they are starting to become basic. I feel that we could use some new themes to switch it up and not have every school in the valley rotate the themes around. The construction theme and neon theme are insanely similar, so putting them together in the same season also is repetitive. These themes should definitely be changed throughout the years.
Some "absolute no" themes were the recent ones, "Who's Your Daddy" and minions. These are very creative themes, but they are not my favorite. "Who's Your Daddy" was an odd theme to me since it's not classified as the "cutest" theme, so lots of people didn't dress or attend. And, the minions is hard theme to do at the last minute which is when I feel most students put their themed outfit together. 
Lastly, my favorite theme is country. I love this one because everyone is dressed extremely  cute and the student section is always huge when it's country themed. Our student section again looks so united and everyone tends to wear flannels and cowboy boots, which is adorable. 
I hope this western theme keeps recurring and  I also hope that new, fun ideas are brought to the table next season.