Dia De Los Muertos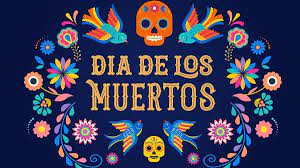 Dia De Los Muertos is a holiday that originated in Mexico. It takes place from November first through November 2nd. Hundreds of years ago, Aztecs in central Mexico used skulls to honor the dead. Although the premise of the celebration remains the same, it is celebrated in different ways. Families and friends often make an ofrenda, which contains photos, letters, poems, or items that remind them of their deceased relatives. Food and drinks that the person loved are also set on the ofrenda. Many families visit cemeteries and bring their offerings on the night of November 2nd. It is believed that the spirits of the Dead come to visit their friends and family during the celebration.
Junior Samantha Egan celebrates Dia De Los Muertos by "[making] an ofrenda by the fireplace and lighting candles most nights next to the pictures that are there. We don't put any food but we have candles" She also "places flowers called marigolds around the photos".
Marigold flowers are typically used to guide the spirits of loved ones to their home. These flowers were placed from the ofrendas to where the loved one was buried. Now it is common for the flowers to be spread around the house instead of the burial site. 
There are many festivals commemorating this holiday. For example, from October 25 through November 2nd Olvera Street holds a Dia De Los Muertos festival. Alters and community ofrendas are set up for the community to honor the dead. There are multiple shops and restaurants open that sell authentic Mexican food, clothing, and items. In Placita Olvera, there are Aztec dancers, ceremonies for the dead, and Myan blessings given out before events. There is also face painting where you could get the entire or half of your face painted as a skeleton. This is a lively celebration that is perfect for honoring the dead and celebrating Dia De Los Muertos. In many festivals, there are Folklorico dancers who perform. Folklorico dancers will have beautiful dresses, which they use as part of their choreography. 
I have been to Placita Olvera during the Dia De Los Muertos celebration and it is an amazing experience. It is a great place to spend time with your family and to be able to enjoy Hispanic culture through the food, clothing, and traditions that are presented in the shops and restaurants. There are so many events and things to do that will keep you busy for the entire day and it is definitely worth the drive. I would recommend eating at El Paseo Inn, which offers agua frescas, fajitas, burritos, tacos, and sopes. 
Overall, Dia De Los Muertos is an important holiday to commemorate those who have passed away. Although it is a Hispanic tradition, anyone can participate and appreciate this holiday. Making ofrendas, going to festivals, or just remembering a loved one who has passed away are all ways you can celebrate this holiday. Spending time with family and friends can also be a great way to remember loved ones are share memories together.