Disney World: Dos and Don'ts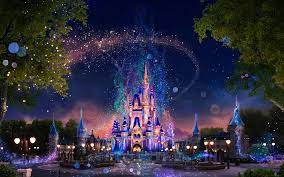 I visited Walt Disney World from September 23 to October 1, 2022. I visited all 4 parks, stayed at a Walt Disney World Resort, and maximized my experience throughout my 4th visit. So, here is my advice on how to fully experience Disney World with tips, tricks, and what you should and should not do to make the best of your travels.                                                     
Disney's Magic Kingdom
Disney's Magic Kingdom is Florida's version of Disneyland with 107 acres. They have the iconic Cinderella Castle and the six lands: Main Street U.S.A., Tomorrowland, Fantasyland, Frontierland, Liberty Square, and Adventureland with their cast members dressing accordingly. See the dos and don'ts of the most popular Disney park. 
Don't: Expect to do everything without a Genie Plus Pass
This is a very large park with many lands and attractions catered to all ages. They have all the classics and nostalgia-inducing rides and shows. Getting Genie+ for rides like Seven Dwarfs Mine Train, Splash Mountain, Space Mountain, Big Thunder Mountain, and Peter Pan's Flight is ideal because of the consistent 100+ minute waits. This being said, the Genie+ pass is a pay-per-day service that allows you to book Lightning Lane passes to multiple rides a day; a perfect fit for a day at the Magic Kingdom. 
Do: Ride things during the firework show
If you don't mind missing the firework show, that is a great time to ride as many rides as you can. The lines are unoccupied at this time, and allow you to do any rides you missed during the day. You may also get to experience rides at night if you haven't already. 
Don't: Take the Ferry to the Park
If you're not staying at a Disney Resort, in which case you would be bussed directly to the entrance of the park, you will have a choice of a ferry or a monorail to transport you to the park. Take the monorail. The ferry takes an extremely long time, and no matter how early you are you will have to wait in a very long line to get into the park.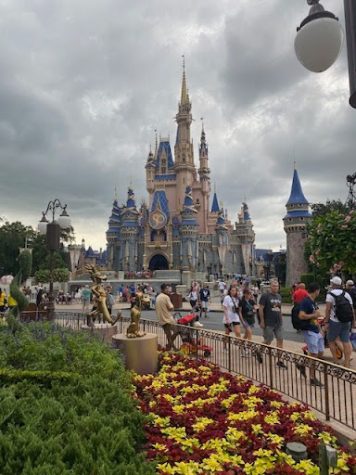 Photo by Bailey Posey
This is a program used for families with small children who are unable to ride bigger rides. It allows one person to stay outside ] with a child while the rest of the group rides. Then, the rider who stayed off gets to switch babysitting duties with someone who just rode and ride the ride with one passenger who gets to ride it twice. This way everyone gets to ride, and someone can go twice. 
Disney's Animal Kingdom
Animal Kingdom is Disney World's largest park due to the safari area with real live animals like elephants, giraffes, hippos, cheetahs, etc. One of the most popular rides at this park is the Kilimanjaro safari, where you ride a safari truck through the grassland-like area and see these animals. It is focused on the animal side of Disney with lands such as Africa, Asia, Dinoland U.S.A., Discovery Island, Pandora: World of Avatar, and Rafiki's Planet Watch.
Don't: Park Hop Animal Kingdom
Park hopping is where you go to one park for part of the day, then hop to another for the rest. Animal Kingdom is one park I do not recommend doing this for. This park has a lot of rides with very long lines. With the addition of all the great shows and small details to experience, there is too much to do in less than a whole day. 
Flame Tree is a barbeque restaurant on Discovery Island. They serve pork ribs, mac & cheese, etc. 
Don't: Skip the Photo Opportunities
This park has the most natural and green backgrounds out of all the Disney parks, so the mountains and rivers provide very good backgrounds for photos. There'll be Disney photographers all around the park offering to take photos for you, make sure to stop and take some!
Do: Try and Skip Scanning Your Genie+
Animal Kingdom is another really good place to buy the Genie+ Pass, because of the incredibly decorated and memorable rides in Pandora: World of Avatar.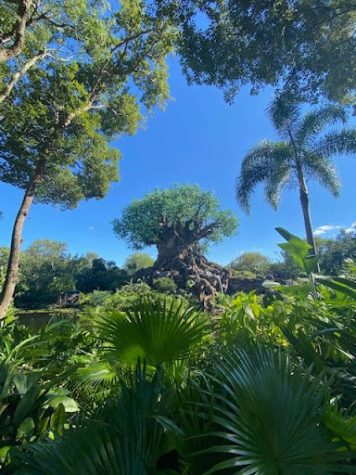 Photo by Bailey Posey
When using your Genie+ pass, you must scan either your magic band, card pass, or online 
Genie+ Pass in the Disney My Experience App before entering the ride you have the pass for. If you manage to discreetly avoid scanning your pass, you will get to go on the ride again.
Disney's Epcot
Epcot is one of the most adult-aimed parks in all of Disney World. This park is known for its World Showcase, featuring 11 countries and being the one with the big ball that actually has a ride inside. In clockwise order, they are Mexico, Norway, China, Germany, Italy, USA, Japan, Morocco, France, United Kingdom, and Canada. Each country has buildings, food, stores, rides, and beverages themed by their respective country. Even the cast members are dressed accordingly. 
Do: Ask the Cast Members in the World Showcase About The Cast Member Exchange Program
Not all, but most cast members in each respective country in Epcot are actually from the country they work in. For example, many cast members in France are really from France. The ones whose name tags have an extra small gold plate that says the other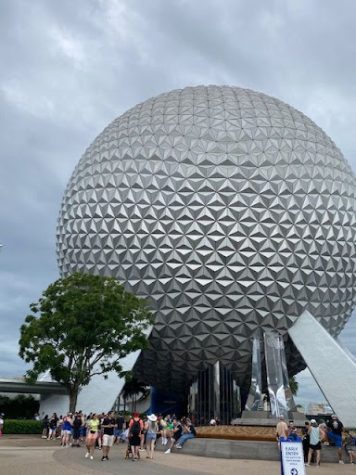 Photo by Bailey Posey
language they speak. You may notice this when going on a ride, and the cast members count the parties in another language.
Don't: Go Straight to the World Showcase
Though it is the most popular area in the park, Epcot has other things to experience that are good to get out of the way before experiencing the Showcase. Big attractions that you need to experience are the Test Track ride where you can design your own car and test it, The Seas With Nemo, and Friends ride where the exit leads into a full aquarium where you can see dolphins, sharks, manatees, sea turtles, etc. Don't miss Turtle Talk with Crush, a very fun, interactive, and personalized show-like experience with Crush the sea turtle from Finding Nemo!
Do: Get in the Guardians of the Galaxy: Cosmic Rewind Virtual Que Early
Guardians of the Galaxy: Cosmic Rewind is a new roller coaster with a new technology called an Omnicoaster, being the first of its kind in any Disney park. This being said, the queue becomes so long that Disney has designed a virtual one. When it opens in the morning, be online and ready to get in the virtual queue. That way, you don't have to stand in a physical line and can experience the rest of the park while you wait. This is the only kind of line available for this ride.
Don't:  Forget that Mission Space has Two Levels
Mission Space is a rocky simulation ride with very realistic movements, sound, and imagery. This ride is known to induce motion sickness to the point where barf bags need to be ready and accessible to all riders. However, to allow a larger number of people to ride this ride, they have two levels. An easier one with less motion and a more intense one.
Disney's Hollywood Studios
This is one of Disney World's smaller parks, spanning 154 acres. This park is themed after the imagined worlds of Hollywood. This park includes lands such as Star Wars: Galaxy's Edge, Toy Story Land, Hollywood Boulevard, etc. So, learn what to and not to do here.
Getting to the parks 15-20 minutes before opening allows you to beat long lines of popular rides, like Star Wars: Rise of the Resistance in Galaxy's Edge. This ride has consistently long lines, but by getting there early you can wait for 30 minutes or less.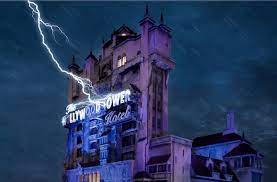 (Photofromhttps://insidethemagic.net/2021/03/tower-of-terror-drop-rwb1/ )
Don't: Skip on the shows (especially Frozen)
Hollywood Studios has many good shows to watch that help you shake off the theme park stress, cool down or escape the rain, and have a laugh with the experience and jokes being different with each actor!
Do: Ride Star Tours multiple times
Star Tours is a 3D flight and fight simulation ride revolving around a fabricated Star Wars Mission. However, your mission, ride, and simulation are different every time you ride it. 
Don't: Look past seasonal specialties
Disney loves incentivizing people to visit their parks with seasonal treats. Whether it's a Limited Time Holiday Toffee Pretzel or a Hocus Pocus Black Flame Cake.
Learning the Ins and Outs of Disneyworld can be hard and intimidating, but that's why I'm here. To talk about the Dos and Don'ts of Disney World.