Different Fright Fest Activities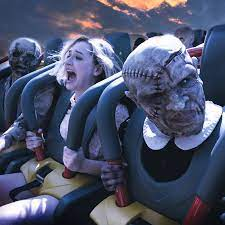 Trying to find a fun and scary activity to do with friends or family during the upcoming fall season?  Fright Fest at Magic Mountain is now open and waiting for you to join them for an entertaining night! Join them on select nights from September 10 to October 31. 
Tickets cost $34.99 for a day pass for Fright Fest, but if you want to do the petrifying attractions they offer, it costs $114.99 for the day pass and attractions pass. If you already have a pass, it's free unless you want to buy an attraction pass, then it costs $24.99.  
Fright Fest has so many fun adventures to do in the park! They offer five terrifying horror mazes which include, Truth or Dare (Coming soon), Willoughby's Resurrected, Vault 666 Unlocked, Condemned – Forever Damned, and Sewer of Souls. Fright Fest also offers eight scare zones all over the park, two of which are brand new. The different scare zones they have are, Devils Triangle (NEW), CarnivHELL (NEW), Exile Hill, City under seige, and lastly TERRORtory Twisted, Nightmares – A twisted fantasy, Terror Rising – Dark Developments, The Dead Zone.  Saugus junior, Jaden Rivas shares, "The park has so many different decorations where some even the decoration glows in the dark." The monsters at Fright Fest will join you on rides, scare you when you're least expecting it, and follow you around the park.
The monsters at the park correlate to the different scare zones they offer and the horror mazes as well. Some monsters you may find at Fright Fest are scary clowns, possessed monsters who have risen from the dead, evil nightmares that have come to life, evil souls who have risen from the grave, and punk zombies who are starving and looking for prey. Those are just some different monsters that are in the park waiting to scare you!
Fright Fest is a really fun and scary thing to do with your friends and family this spooky season. So join them before it ends on October 31 for your fun and spooky night.