Weekend In Texas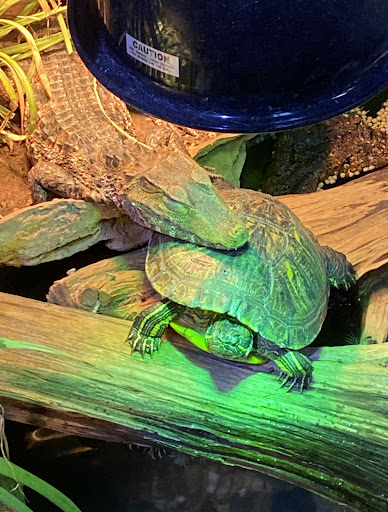 During the three-day weekend for Fall Break, my boyfriend and I went to Texas with his family for a vacation. During the weekend we did a ton of fun stuff, so if you're in Texas or planning to visit anytime soon, these are just some of the hot spots that you need to go visit!
In Texas there was a super fun interactive zoo called "Houston's Interactive Aquarium and Animal Preserve." At this zoo they had so many fun activities and animals which you could touch! They had ocean animals like sharks, sting rays, star fish, otters, and a ton of different fish. As well as ocean animals they had fresh water animals like axolotls, frogs, turtles, baby alligators, and freshwater fish! For land animals they had kangaroos, lambs, sheeps, ostriches, giraffes, lemurs, pigs, hogs, bunnies, ground squirrels, snakes, sloths, and birds. 
"The zoo was a lot of fun and had a lot of different animals and the best part was you could touch them." Jaden Rivas. This zoo had so many different things to do and was a super fun experience.
If you're looking for a mall to go shopping at, The Woodlands Mall is the one you should go to. They have inside and outside parts of the mall. Outside had a few restaurants like Cheesecake Factory and P.F. Changs also had a few shops such as Lululemon, Urban Outfitters, and Barnes and Noble. Inside the mall there were so many different stores like Build-A-Bear, Garage, Lids, Dillards, Victoria's Secret and so many more. The mall was so big and had a lot of fun stores to visit.
In Texas a place you have to visit is Whataburger, every person in Texas that you asked for a good burger place said Whataburger.  They are a 24 hour fast food restaurant, the restaurant is very small and not hard to miss with its orange colored walls. When we visited Whataburger they had a really big menu including foods like burgers, chicken sandwiches, deserts, and breakfast foods as well. When trying it, it reminded me of McDonalds because of the large menus and the fries tasted the same. So, if you're in a rush and want a fast and easy meal, Whataburger is the place for you. 
These are just some of the super fun activities that you can go experience for yourself if you are ever in Houston Texas!