Fall Date Ideas
To spice up the fall season with your significant other, there are many autumn themed dates in and out of Santa Clarita. You can create many perfect fall date nights with the following  ideas and places. 
Locally in town we have our infamous Six Flags that has Fright Fest every year. Within the park they have scare zones and inside the park you can buy a pass to go through the many terrifying mazes. This is a fun experience for you and your partner to share some screams and laughs. 
Senior, Jaelynn Swanson says, "they could definitely make it scarier and add more actors around the park, but it's fun to walk around anticipating to be scared and never knowing what's going to happen next."                                                                                                                                                                               
Another local date on Bouquet Canyon Road is the Pumpkin Patch. They have a large selection of pumpkins and fun inflatables to go on. The classic fall date which you can end the night with pumpkin carving. This is a great date to create memories and share a tradition with your partner.
An out of town date you can plan for your boyfriend or girlfriend is apple picking. This is a common and cute way to spend the day talking and getting to know each other better. You could make it a day trip to Tehachapi, at Pulford's Appletree Orchard. At this orchard you get to pick fresh apples from their trees. Also, Senior Emily Foley shares, "I have been going here with family since I was little. It's a refreshing and great time to share with the people you love. I'm excited to go this year with my boyfriend."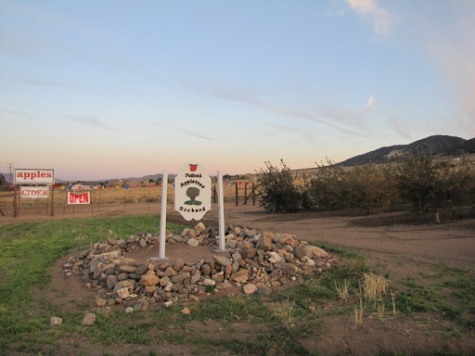 Go visit all these spectacular places this fall and make them new traditions for you and your people.