Halloween or Holiday Season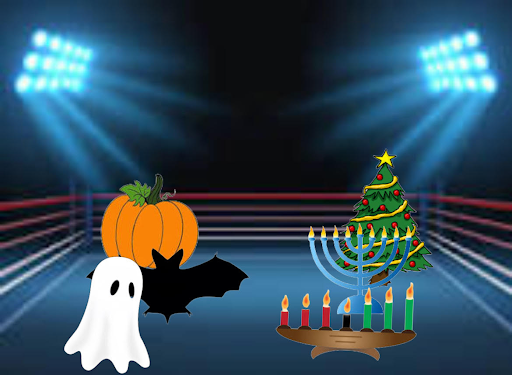 A common debate amongst many individuals is whether Halloween or the holiday season is better. Those who prefer Halloween argue that it is better because of the fall weather, horror movies on television, costumes, and candy. However, individuals who are the opposite, argue the holiday season is better because of spending time with family members on Christmas, Hanukkah, Kwanzaa, Thanksgiving, or another holiday one may celebrate; as well as, winter time and snowfall, if one lives in an area where it snows, and the cheerful holiday movies broadcasted on television. Twenty-eight Saugus Centurions participated in a poll on whether or not they preferred Halloween or the holiday season. By a vote of 10-18, the Holiday season became the most popular amongst those who voted.
Though Halloween did not win the poll, there are still many valid arguments for why it surpasses the holiday season. Junior, Abby Thompson, believes, "Halloween is really fun for kids who are younger than ten because they get to dress up like their favorite character and get candy. I remember when I was little that would be really exciting for me because then I would get to 'fight' with my dad over the candy." 
She adds, "…as I grew up, it was more and more fun to dress up as characters because I had my brother when I was in second grade, so then we got to start matching." Many nostalgic memories can come from this holiday. In elementary school, sometimes there would be little parties where everyone got to have fun, watch a movie, and not have to do work. 
There was also going into Party City, Target, Walmart, or looking through a catalog when choosing a Halloween costume. The costume displays would include Disney princesses, superheroes, and many fun movie characters. Trick-or-Treating also can be very memorable for many – staying out late while walking around in the neighborhood, knocking on people's doors to get candy and watch them awe over their costumes. Those memories can be amazing for a lifetime and they do not need to be stopped. No matter what age one is, no one is too old to go trick-or-treating and dress up for Halloween. 
While the Halloween lovers will be heartbroken, the holiday season won the poll by eight votes. Junior Abby Cohn highly believes, "The energy of the holiday season is unmatched.  Regardless of what holiday or tradition you celebrate, there is just something about having family and friends join together to celebrate something."
"The weather is just perfect, and there is something about curling up with a blanket, a good book, and a warm drink that is just unbeatable.  People are typically a lot kinder and forgiving during this time of the year, and monumental memories seem to be more easily created.  Plus the pajamas for the holiday season are unmatched. Seriously, I recommend that you go to your local Target or Walmart and pick up a pair of soft plaid pjs." 
Curling up on the couch with a nice cozy blanket and pajamas while the fireplace is lit along with a good movie or book can provide some exceptional comfort. Many believe this setting is even more comforting during the holiday season because of the cold weather and holiday decorations decorating the house. Multiple holidays exist during the time period, such as Christmas, Hanukkah, Kwanzaa, and many others. Regardless of which holiday one may celebrate, memories are made and hearts are full of love. 
Even though a debate between Halloween and the holiday season will always exist, each are holidays that anyone can celebrate if they choose to. Both can be memorable and make people joyful depending on their interests. Though the holiday season may have won the poll, both sides are amazing in their own different styles.